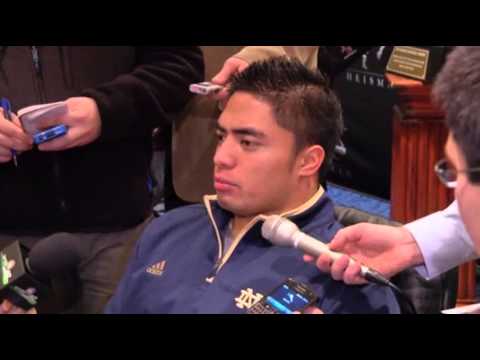 View 5 Items

SOUTH BEND, Ind. — Notre Dame says a story about Manti Te'o's girlfriend dying, which he said inspired him to play better as he helped the Fighting Irish get to the BCS title game, turned out to be a hoax apparently perpetrated against the linebacker.
The university issued a news release Wednesday after Deadspin.com reported it could find no record of Lennay Kekua existing.
The university says that Notre Dame coaches were informed by Te'o and his parents on Dec. 26 that Te'o had been the victim of what appeared to be a hoax. Someone using a fictitious name "apparently ingratiated herself" with Te'o, the school said, then conspired with others to lead him to believe she had died of leukemia.
This is the full text of the Notre Dame statement:
On Dec. 26, Notre Dame coaches were informed by Manti Teo and his parents that Manti had been the victim of what appears to be a hoax in which someone using the fictitious name Lennay Kekua apparently ingratiated herself with Manti and then conspired with others to lead him to believe she had tragically died of leukemia. The University immediately initiated an investigation to assist Manti and his family in discovering the motive for and nature of this hoax. While the proper authorities will continue to investigate this troubling matter, this appears to be, at a minimum, a sad and very cruel deception to entertain its perpetrators.
The week before Notre Dame played Michigan State on Sept. 15, coach Brian Kelly told reporters that Te'o's grandmother and a friend had died. Te'o didn't miss the game. He said Kekua had told him not to miss a game if she died. Te'o turned in one of his best performances of the season in the 20-3 victory in East Lansing, and his playing through heartache became a prominent theme during the Irish's undefeated regular season.
Te'o went on the become a Heisman Trophy finalist, finishing second in the voting, and leading Notre Dame to its first appearance in the BCS championship.
Te'o and the Irish lost the title game to Alabama, 42-14 on Jan. 7. He has graduated and was set to begin preparing for the NFL combine and draft at the IMG Academy in Bradenton, Fla., this week.
Four days ago Te'o posted on his Twitter account: "Can't wait to start training with the guys! Workin to be the best! The grind continues! #Future"
Te'o's mother did not immediately return a call seeking comment.
Manti Te'o himself released a statement Tuesday afternoon to ESPN regarding this apparent deception.
"This is incredibly embarrassing to talk about, but over an extended period of time, I developed an emotional relationship with a woman I met online. We maintained what I thought to be an authentic relationship by communicating frequently online and on the phone, and I grew to care deeply about her.
"To realize that I was the victim of what was apparently someone's sick joke and constant lies was, and is, painful and humiliating.
"It further pains me that the grief I felt and the sympathies expressed to me at the time of my grandmother's death in September were in any way deepened by what I believed to be another significant loss in my life.
"I am enormously grateful for the support of my family, friends and Notre Dame fans throughout this year. To think that I shared with them my happiness about my relationship and details that I thought to be true about her just makes me sick. I hope that people can understand how trying and confusing this whole experience has been.
"In retrospect, I obviously should have been much more cautious. If anything good comes of this, I hope it is that others will be far more guarded when they engage with people online than I was.
"Fortunately, I have many wonderful things in my life, and I'm looking forward to putting this painful experience behind me as I focus on preparing for the NFL Draft."
Manti Te'o was, at one point, a BYU recruit. He eliminated BYU from his short list after visiting the BYU campus in 2009.
Te'o's visit was not absent of controversy. During Te'o's visit, several players on a recruiting trip were involved in an incident involving alcohol, which is against the BYU honor code. Both Manti Te'o and his father, Brian, adamantly denied involvement.
The news that Lennay Kekua is not and never was a real person was met with a heavy response on social media, particularly on Twitter. Here are a few of the thousands and thousands of tweets regarding Te'o's false relationship.
Tom Coyne of the Associated Press contributed to this report.