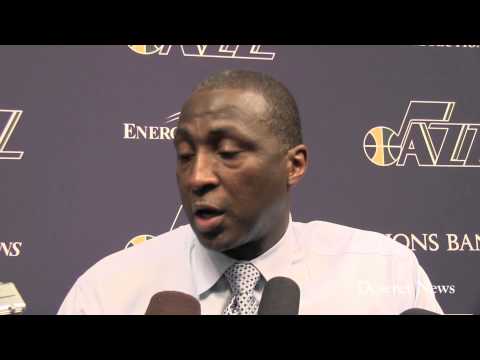 View 36 Items


It's a mental grind when you know you're getting the best shot from every single opponent every night.

—Miami guard Dwyane Wade
SALT LAKE CITY —
This is how life is when you get everyone's best shot. They come at you, restless and hungry. They play like it's the last game of the playoffs.
Sometimes they take you down, too.
Monday at EnergySolutions Arena, the Jazz built a 21-point lead and saw it melt to two, before holding off the Miami Heat, 104-97. That made it six losses in the last 10 games for the defending champs.
At the same time, this is how it is when you're everyone's worst enemy. You never really plan to lose, even when you start the fourth quarter trailing 19. The Heat scrambled back to within a basket with three minutes left.
Afterward, you carry an air of earnest concern, but you don't let fear creep in. You know that June is an eternity away.
You say without saying that you're not terribly worried that you've lost six of your last 10 games. There's a reason for that: Miami wasn't the best regular season team last year, either.
Even when you begin a six-game road trip with losses at Indiana and Portland, you roll up a season-high 128 points against Sacramento the next game.
You act like you've done this before.
"It's always a concern when you lose ballgames, but with this team, it doesn't matter," said Miami guard Dwyane Wade, who sat out the final quarter.
"If we win, we're supposed to win," Wade continued. "If we lose, we should lose, so we have to figure it out."
Figuring out what Wade meant is a different story.
In any case, the Heat came to town playing every bit the part of South Beach celebrities.The gathering of more than 30 media members at shoot-around at EnergySolutions Arena on Monday was roughly that of a playoff game. It mildly surprised both the Heat and team staffers. Salt Lake is a small market. But nearly all the major media outlets were represented, sometimes more than once.
Still, as Wade noted, it's business as usual, wherever Miami plays.
"It's a mental grind when you know you're getting the best shot from every single opponent every night," Wade said. "But I don't think you'd want it any other way. That's fine, it's what you play the game for."
Meanwhile, James spent part of Monday morning talking about the cold weather, but may as well have been talking about the attitude of Jazz fans.
"It's not nothing I haven't felt before in my lifetime," James said. "In Cleveland – I've seen cold weather. So it's cold. I'm not saying it isn't cold, but it's nothing haven't seen."
Indoors or out.
Things get frosty whenever the Heat go on the road.
It has been a puzzling year for Miami. It lost to the Grizzlies and Clippers in the first part of the season, but beat the Nuggets and Spurs. It also lost to New York (twice) and Golden State at home.
The Heat had no problem at home against the Jazz, taking a 105-89 win on Dec. 22. Then came the big one, a Christmas Day game against title contender Oklahoma City. Miami made sure everyone knew who was calling the meeting to order, winning 103-97.
Although Miami is just 5-6 since its holiday win, it still has three perennial All-Stars, including the game's best player. It also has aging but dangerous shooting expert Ray Allen. That wasn't enough to withstand the Jazz, who outrebounded Miami by a hefty 40-23 margin. That was a surprise. Though the Jazz have won three of the last four with the Heat, Miami has won 12 of the last 18.
So this is how you do it when you're a glamor franchise: You are so good you deliberately downplay things. Go ahead, check out the Heat's website. The two players displayed on the front page are Allen and Shane Battier, a non-starter and an injured player.
No need to promote the superstars. They bring their audiences along.
Thus on Monday the Heat lost the battle but not the war. If they haven't exactly dominated this season, that still gives them little reason for panic. Last year they had just the fourth-best record in the NBA during the regular season. Even with their recent losing woes, they came into the game with the best record in the East.
In the playoffs last year they were far from dominating – until the Finals, when they wiped out Oklahoma City 4-1.
Moral to the story: It's all right to let them see you're human. Until it's time to become super.
email: [email protected]
Twitter: therockmonster
Facebook: rockmonsterunplugged