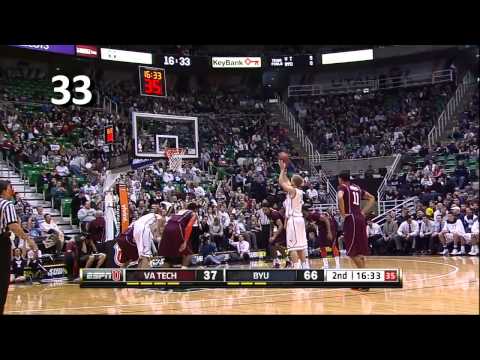 View 6 Items

Q: How difficult has it been to lose by big margins to teams like Iowa State and Baylor?
A: "It's tough when you look up and you're down 20. Whenever that happens, it's kind of discouraging. We've got to put together a good 40 minutes. I don't feel like we've put together a solid 40 minutes yet. That's all we can do, is just play hard. I'm confident our team's going to get better and we'll start figuring out ways to win."
Q: What do you want to see this team do better as conference play approaches?
A: "One thing we can do better is attacking consistently for 40 minutes. I feel like there are stretches where we let the other team score a bunch of points and we don't score. We need to attack offensively and defensively for 40 minutes."
Q: You and Brandon Davies have been consistent scorers this season. How important is it find someone else that can score consistently?
A: "We're looking for that third guy. We're trying to give guys confidence. There's lots of great players on this team. I'm confident that guys will step up and find ways to contribute."
Q: You were serving a mission last year during BYU's first season in the West Coast Conference. What have you heard about WCC road trips?
Comment on this story
A: "I've talked to a lot of the players about it. They say they're small gyms, almost like high school gyms. I'm excited. It's something I haven't experienced before, so I'm ready for it."
Q: Since it's been a couple of years since you've had to endure the rigors of an entire season of basketball, how is your body holding up so far?
A: "I'm happy with the way my body's responded after 12 games. I'm feeling healthy and I still feel like I'm getting better. My endurance is coming back. After I play 35 minutes, I'm not as sore as I was the first couple of games. It's still a work in progress."