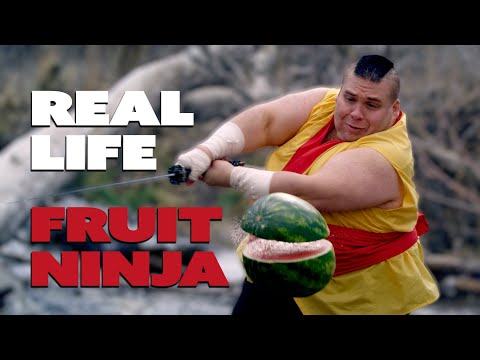 View 2 Items
Scottdw

A locally produced parody to the popular phone app "Fruit Ninja" made its video premiere last week to YouTube, going viral with over 15.6 million views in 10 days.
Based to an original dubstep song written by local musicians Scott & Brendo, the video reached 10 million views in five days. After 10 days, the video has over 15.5 million views with mentions from College Humor, Devour, MSN, CBS, Red Bull, the Huffington Post, Mashable, and YouTube.
The viral video was created by Washington native, Scott Winn a Brigham Young University alumnus. He recently produced local musician Lindsay Sterling's video to What Child is This which has reached over a million views on YouTube.
The video stars actor Christian Busath who served a mission for the Church of Jesus Christ of Latter-day Saints in Salt Lake City. Busath attended Brigham Young University-Idaho and played William Barfee during a nine month national tour with the Broadway musical The 25th Annual Putnam County Spelling Bee from 2008-2009.
The object of the game Fruit Ninja is to slice all the fruit that appears on the screen, avoiding any bombs or missing any fruit. If the player misses three fruit or hits a bomb, the game is over.
The game was developed by Halfbrick Studios in Brisbane, Australia. It was released April 21, 2010 for iPod Touch and iPhone devices, July 12, 2010 for the iPad, September 17, 2010 for Android OS devices. In May 2012, Fruit Ninja reached 300 million downloads, and was on one third of all US iPhones. It is also available for Windows 8 and released a game version for Xbox Kinect and Xbox 360 in August 2011.