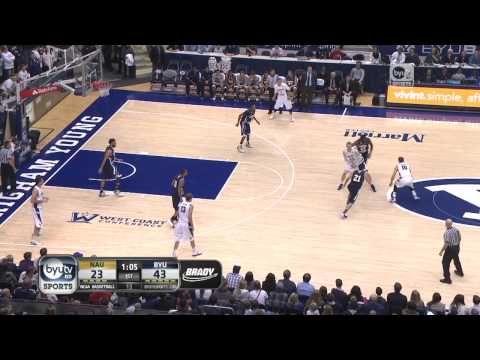 View 38 Items

PROVO — The 27 points and 10 rebounds by Brandon Davies and the 15 points by Tyler Haws was what BYU had expected. It's pretty much what Davies and Haws have been doing all season.
But with West Coast Conference play right around the corner, the most encouraging sign Thursday night for coach Dave Rose was the performance of the reserves in the Cougars' easy 84-54 victory over Northern Arizona at the Marriott Center.
BYU's pair of junior college transfers, Raul Delgado and Agustin Ambrosino, came off the bench to combine for 19 points.
"You want to be able to have confidence in a lot of your guys," Rose said. "A lot of guys got extended minutes where they got to feel real comfortable. I was pleased with how the guys came in and contributed. We got good contributions from our bench, which is key to playing consistently for an entire game. It was a good effort from the bench."
Delgado scored a career-high 11 points, including 3-of-5 from 3-point territory, in 17 minutes of action while Ambrosino chipped in eight points and four rebounds in 23 minutes.
"I thought they both played well tonight. They earned the minutes they got because they played well," Rose said of Delgado and Ambrosino. "They understand that's kind of the nature of the beast as far as where they are and their role on this team. If they go in and play well, their minutes will be increased. … All the minutes are good for their confidence. Sometimes when they just get two or three minutes here or three or four minutes there, it's a little bit tougher."
Delgado, a transfer from Western Nebraska Community College, said he's feeling more comfortable and confident every day.
"It's always the challenge to get the chemistry between the team," Delgado said. "Right now, I'm starting to get the feeling of the game a little bit more. There's more chemistry with the guys, definitely."
Rose changed up his starting lineup Thursday, going with Davies, Haws, Josh Sharp, Brock Zylstra, and Matt Carlino. It's a lineup that Rose has used six times, but it was the first time he had those five starting since Nov. 21 against UT-San Antonio.
"We'll go with the guys who we feel understand our system from top to bottom the best," Rose explained. "We need to find the guys that we're most confident with."
"I have trust in the coaches. They know what they're doing," Davies said of the lineup change. "They're just trying to get guys in. Yeah, they're still trying to figure out who's going to step up and play where, but it's up to our guys to keep battling and keep playing hard."
The Cougars played even with the Lumberjacks early on, then took control.
BYU was clinging to a tenuous 14-13 lead when it went on an 18-0 run to go up 32-13 with 7:47 remaining in the first half. During that stretch, Northern Arizona went nearly seven minutes without scoring.
Then, after the Lumberjacks finally snapped that streak on a pair of free throws, the Cougars endured a three-minute scoring drought. But BYU led at intermission, 48-23.
The Cougars built on their lead in the second half. Back-to-back 3-pointers by Delgado lifted BYU to a 75-40 advantage. Moments later, the Cougars captured their biggest lead of 38 points, 78-40, with 10:16 remaining.
Northern Arizona shot just 36.7 percent from the field and finished with more turnovers (24) than field goals (22).
"It was a really good defensive effort," Rose said.
Offensively, Davies dominated, hitting 13-of-16 shots from the field, including three slam dunks. He also recorded his fourth double-double of the season.
"We were sitting on that Baylor loss (on Dec. 21), and we were fired up every day in practice," Davies said. "We wanted to make sure we took care of business tonight."
With the win, the Cougars improved to 9-4 on the season, while Northern Arizona fell to 4-8.
BYU meets Virginia Tech Saturday (noon MT, ESPNU) at EnergySolutions Arena in Salt Lake City.
NOTES: Announced attendance was 17,342. … Bronson Kaufusi, who joined the basketball team this week after recently completing the 2012 football season, sat on the bench in street clothes Thursday night. … Guard Anson Winder started the second half for Carlino because the referees told Carlino he would not be able to wear the black tights he had on in the first half.
Email: [email protected]