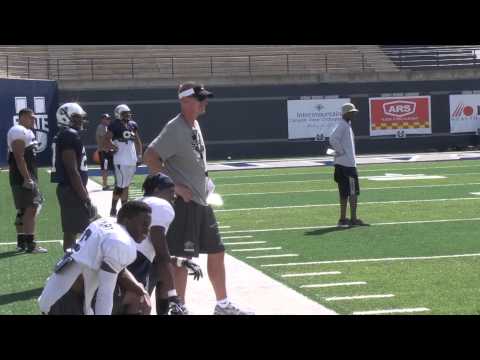 View 2 Items

What's wrong with Gary Andersen dumping Utah State to take the head coaching job with Wisconsin?
Only everything.
I'll give you three reasons:
No. 1: How do you know if a coach is lying when he says he plans to stay? His lips are moving. How many times have we heard a coach say he was staying and then watched him leave? They've broken more promises than Congress. When a coach says he's staying because (fill in the blank: he loves the kids, the community, the administration, his family, his dog), what he really means is that he is staying — until he gets a better offer.
Six weeks ago, I asked Andersen about USU's history as a stepping stone for coaches. After saying that he had been won over by the community, the beauty of Cache Valley, the support of the administration, the improving facilities, the caliber of players, he said: "I think every coach has a niche, if you will. I said that the first year I took the job here. When you have the opportunity to be surrounded with what your beliefs are in coaching, it's a special situation. There's something special about this place. I never took this job viewing it as a stepping stone. It's a special place. I drink the Kool-Aid."
When his name was mentioned for jobs at Kentucky, Colorado and Cal, Andersen released this statement to the media on Nov. 30: "At the end of the day, Logan is where I need to be. The kids, the administration — we had too much momentum going for me to leave."
OK, we all know that coaches take jobs at bigger schools with superior football programs because they can make enough money to start their own country and take care of their family for the next three generations. We know coaches are really office temps willing to sell themselves to the highest bidder. We know there is no loyalty among college coaches. We get it. SO WHY DON'T THEY JUST SHUT UP ALREADY ABOUT STAYING?
Andersen lulled Aggie fans into a state of trust — and then burned them. What was the point of all that public posturing? If he had just kept his mouth shut, his departure would have been easier to take.
No. 2: The system is stacked against the little guys — Utah State, for instance. Every time a coach has even modest success at USU, he gets wooed away by a bigger school. The rich stay rich, the poor stay poor.
USU is a farm team for head coaches. Andersen's replacement will be the Aggies' 11th head coach in 37 years. Five were fired and five left to go elsewhere. Yet Andersen is the first guy to leave town with an overall winning record at USU since Phil Krueger in 1975. Krueger, John L. Smith, Bruce Snyder, Charlie Weatherbie and now Andersen used the Aggies for a stepping stone to other jobs. And by the way, it doesn't get any worse than being jilted by Weatherbie — especially when he left to take the job at Navy.
How is one of college football's have-nots supposed to build a program if it loses its coach every three years? The Aggies, who were 9-38 in the four years before Andersen arrived, finally put together a dream season after decades of futility — first bowl win in 19 years; first 10- and 11-win season in history; first conference championship in 76 years — and now the architect of that season is gone after four years on the job.
The Aggies have had only four winning seasons in 31 years, and Andersen produced two of them. He came within five points of an unbeaten season. Then the moment he gets his own Wikipedia entry, he's outta here. How is USU supposed to replace this guy? He's just one more coach to eat and run.
"We thought this was the hire that was going to change that," one USU official said Tuesday. "USU has done everything he asked them to do, and he's acknowledged that."
Good salaries for the coaches, improved scheduling, a bigger budget, first-rate facilities, a contract extension for himself — Andersen got it all and left anyway. Well, it's not the first time he bailed out on a job. He left Utah to take the head coaching job at Southern Utah in 2003, and a year later he returned to Utah as an assistant.
No. 3: This is a familiar story, but why do schools bother to sign coaches to contract extensions — or to contracts, period? Earlier this season, the Aggies offered Andersen a contract extension and he accepted it. It meant nothing. The entire purpose of the contract was to keep Andersen happy and keep him in Logan. He left anyway.
Contracts between schools and coaches serve only one of the two parties — the coach. The school doesn't hold the coach to the contract. Yes, the coach's new employer usually buys out the rest of his contract, but USU is still out of a coach. They were paying him to coach their team, not another school's team. Just once, wouldn't you like to see a school stand its ground and refuse to let a coach out of his contract?
The only people who are bound by contracts in college football are the players. Under that contract — the letter of intent — they are not allowed to participate in the free enterprise system and they can't change schools without sitting out a year of athletics. They're punished if they change their minds about a decision they made as an 18-year-old. Meanwhile, coaches, who are among the leading reasons a recruit chooses a school, are free to come and go as they please and take whatever money is offered to them.
There's much to dislike about Andersen's abrupt departure.
email: [email protected]