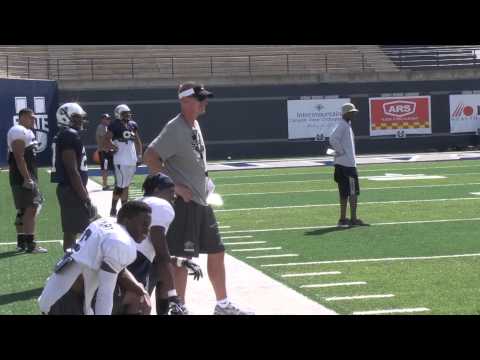 View 9 Items

SALT LAKE CITY – A few days after Gary Andersen had won the WAC championship and was being wooed by Colorado and Cal, he ran into someone he knew at a Salt Lake restaurant.
As they spoke briefly about the coaching carousel, Andersen said in passing that "I never said I wasn't going to leave."
Really? It sure sounded that way. Utah State issued a press release on Nov. 30 under the headline "Gary Andersen Officially Announces He Will Remain the Head Football Coach at Utah State University."
It should have added "… For the Next 2 1/2 Weeks."
Everyone's house is for sale.
"I love where I'm at; I don't have any intentions or aspirations, or reaching out to people to find another job," he told the Deseret News after winning the WAC title outright on Nov. 24. "That's basically my stance on it right now and I've said that all along ... I'm excited to have the opportunity to be the coach here for a long, long time. And away we go."
Away he went.
In the Nov. 30 news release he added, "I plan to remain the head football coach at Utah State University ... I am humbled and excited to continue to be the coach here."
Then he was gone like the last Twinkie on the gas station shelf.
Still, I don't blame him. Andersen was telling the truth when he said he was happy. It's also true he never said he wouldn't leave. He said he "planned" to stay in Logan. He said he wasn't actively looking for a job. All true. (Side note: "Planned" is one of the great words in the English language, i.e. "I planned to be at your retirement party" and "I planned to cut taxes.")
But at Wisconsin, Andersen will triple his salary. Stories say he'll keep most of his staff. Best of all, he's not inheriting a fixer-upper. Wisconsin is going to the Rose Bowl.
Although Andersen did sign a contract extension in October, it's been a long time since anyone paid attention to that sort of window dressing. Every contract has termination and buyout clauses. Here's how it works: Coaches sign guaranteed contracts with universities. If they lose, their schools fire them and pay the termination fees. If they win, the coaches leave for bigger programs, which in turn pay the buyout costs.
Andersen gave USU four years, which is twice what Urban Meyer gave Utah. Few believed he would become the next Stew Morrill, the basketball coach who will be at USU until the Halley's Comet circles back. More commonly, coaches jump when they have the leverage.
Maybe an old story resonated with Andersen. In 1984, Gene Murphy was coach of Cal State Fullerton, which went 11-1. Murphy was among the hottest candidates in the nation. Utah talked to him, as did Louisville and other schools, but he turned them down. He once said, "I guess I'm just a Cal State Fullerton kind of guy."
Yet Murphy only had two other winning seasons in the next eight, before Fullerton shut down the program.
The proverbial window of opportunity had closed.
Andersen's departure doesn't necessarily mean another coach can't succeed. Utah went to seven straight bowl games after Kyle Whittingham replaced Urban Meyer, including the Sugar Bowl. USU is coming off the best year in its history (11-2) and moving into the Mountain West, which should attract better candidates than when a coach is fired.
Realistically, there wasn't much more Andersen could accomplish at USU. It finished the season ranked 18th nationally, winning a conference championship and a bowl game. As a bonus, Andersen beat both BYU and Utah once — something none of his three predecessors accomplished. He got a new strength and conditioning facility started at the corner of Romney Stadium and added new turf to the Stan Laub Indoor Facility.
Andersen has often said he makes no major decision without consulting his late father. In that case, it must have been a convincing conversation. One day he was the Aggie coach, the next he was in the market for a foam cheesehead hat.
This all might have unfolded awkwardly, but Andersen did nothing terribly wrong. At worst, he said he wasn't leaving without actually saying he wasn't leaving. At best, he took a better offer — one he hadn't seen coming.
Just for the record, I'm planning on eating only healthy foods this holiday season. But wait 'til I see the dessert tray.
email: [email protected] Twitter: therockmonster Facebook: rockmonsterunplugged