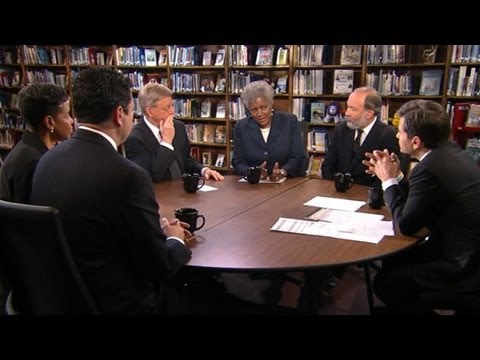 View 2 Items
ABC News

It doesn't make for high political drama or emotional cable chatter, but getting treatment for more of the most seriously mentally ill might actually prevent future shootings.

—Rich Lowry
Gun control and mental illness have been at the center of the debate following the Connecticut school shooting. Read more about the ongoing discussions regarding gun control.
Following the Connecticut school shooting that left 20 elementary school students, six adults and the shooter dead, the national conversation has centered on gun control and mental illness in trying to find answers for and solutions to mass shootings, with some arguing that it's time to put gun control aside and bring mental illness to the forefront of the debate.
Republicans on Capitol Hill have indicated willingness to have conversations about gun control, but lawmakers like Sen. Marco Rubio, R-Fla., and Utah's Rep. Jason Chaffetz, have also listed mental illness as an area that should be looked at.
"We have to deal with the mental health aspect," Chaffetz said on This Week. "I think we absolutely should talk about the intersection of a lethal weapon and (how) it relates to mental health. Absolutely we've got to have that discussion in this country."
Chaffetz also cited the realism of violence in movies and games, and suggested society should look for solutions with families, communities and churches rather than government alone.
Likewise, Rubio "remains a strong supporter of the Second Amendment right to safely and responsibly bear arms," but he is also open to measures that keep guns out of the hands of criminals and the mentally ill, Rubio spokesman Alex Conant told the Tampa Bay Times.
Sen. Joe Manchin, D-W.Va., an avid hunter and member of the National Rifle Association, said it's time to move past political rhetoric in order to have an honest discussion about guns, but that the focus also needs to be wider.
"This is bigger than just about guns," Manchin said. "It's about how we treat people with mental illness, how we intervene, how we get them the care they need, how we protect our schools. It's just so sad."
A 2000 study by The New York Times examined profiles of 102 killers in 100 rampage attacks, looking back more than 50 years. The database showed that more than half of the shooters had histories of "serious mental problems," like a hospitalization, a prescription for psychiatric drugs, a suicide attempt or evidence of psychosis. Of the 24 who had been prescribed psychiatric drugs, 14 had stopped taking them prior to committing their crimes.
A 2011 report from the Mayors Against Illegal Guns organization reported that, since 1999, the National Instant Criminal Background Check System had blocked more than 1.6 million permit applications and gun sales to felons, the seriously mentally ill, drug abusers and other dangerous people.
However, the group said, the NICS has gaps that are endangering lives and that millions of records identifying seriously mentally ill people and drug abusers are missing due to lax reporting by state agencies and federal agencies failing to report records to the NICS.
The report was cited by the National Alliance on Mental Illness in a August 2012 blog post, where the organization said the report was correct in identifying holes, but also that federal law has failed to "thoughtfully and carefully" change vague definitions in the law "in a way that is not only overly broad, but also avoids unfair, damaging discrimination."
Paul Appelbaum, the director of the Division of Law, Ethics, and Psychiatry at Columbia University told The Huffington Post that broadening the mental health criteria for exclusion from gun ownership wouldn't address massacres or gun violence in the U.S., but better screening and reporting of people with mental illnesses already restricted from owning guns could help.
While the impulse of the moment is to run toward gun control, mental health needs to be the main focus, National Review's Richard Lowry cautioned. Common gun control solutions include banning assault weapons or prohibiting high-capacity magazines, but the Connecticut shooter could have used a semi-automatic weapon and reloaded like the Virginia Tech and Columbine killers did, Lowry wrote.
"It doesn't make for high political drama or emotional cable chatter, but getting treatment for more of the most seriously mentally ill might actually prevent future shootings," Lowry wrote. "Even if it doesn't, it would improve the lives of sick and vulnerable people.
"We may never know what the dynamic was in the Lanza home," Lowry continued. "For too many parents of the mentally ill, though, it goes something like this: their child becomes withdrawn, delusional and erratic. If they call the mental health system, they are told to bring the child in for an appointment and the sick child won't go. If the parents call the cops, the cops show up and say the child doesn't appear to represent a threat to himself or others and they leave. If they take him to the hospital, he is quickly released back to the parents even if he is admitted. The choice might become living with a deteriorating child increasingly out of his mind or forcing him out of the home and into the streets. Yes, this is 21st century America. Where we have better means to treat mental illness than ever before, but choose to let the insane people decide to get it or not."
The concerns mentioned by Lowry echo those discussed by mother and writer Liza Long in a blog post about her mentally ill son "Michael" that went viral after the shooting.
"When I asked my son's social worker about my options, he said the only thing I could do was to get Michael charged with a crime. 'If he's back in the system, they'll create a paper trail,' he said. 'That's the only way you're ever going to get anything done. No one will pay attention to you unless you've got charges,'" Long wrote.
It seems the U.S. is using prison as the solution of choicer for mentally ill people, Long said, and society's stigma on mental illness and "its broken healthcare system," does not provide other options.
Increasing the focus on dealing with mental illnesses may be a challenging prospect, however, as the issue runs up against social stigmas, discrimination, treatment options, civil liberties and errors in judgment.
Dr. Nassir Ghaemi, a professor of psychiatry and director of the Mood Disorders Program at Tufts Medical Center, wrote about the shooting in The Boston Globe, stating that it was not a lack of knowledge which could have prevented the tragedy, but rather an inability to implement what was known.
"When will we finally put aside all the discrimination against mental illnesses, which reaches the point of denying their existence, and admit what any civilized, educated society would do: these are real illnesses, often characterize by the refusal of those who have them to accept treatment," Ghaemi wrote. "Sometimes, society has rights which overrule extreme individual civil liberties. Besides strict gun laws, we need more laws allowing for outpatient commitment to treatment for severe mental illnesses like schizophrenia or bipolar disorder."
"This country needs to develop a better understanding of the complexities of various conditions and respect for the profound individuality of its children," Priscilla Gilman wrote in The New York Times. "We need to emphasize that being introverted doesn't mean one has a developmental disorder, that a developmental disorder is not the same thing as a mental illness, and that most mental illnesses do not increase a person's tendency toward outward-directed violence."
Jeffery Swanson, a professor of psychiatry at Duke University and an expert in the epidemiology of violence, told The New York Times that it is not possible to reliably predict violence, and that psychiatrists, using clinical judgment, are not much better than chance at predicting which patients will do something violent and which will not.
2
comments on this story
"You can profile the perpetrators after (a mass shooting) and you'll get a description of troubled young men, which also matches the description of thousands of other troubled young men who would never do something like this," Swanson said.
Indeed, a Wall Street Journal article reported that while in high school, Lanza had attracted the attention of Newtown High School staff members, was being monitored by teachers, counselors and security officers, and had been assigned a school psychologist.
"At that point in his life, he posed no threat to anyone else," Richard J. Novia, the director of the security at Newtown School District in 2007. "We were worried about him being the victim or that he could hurt himself."