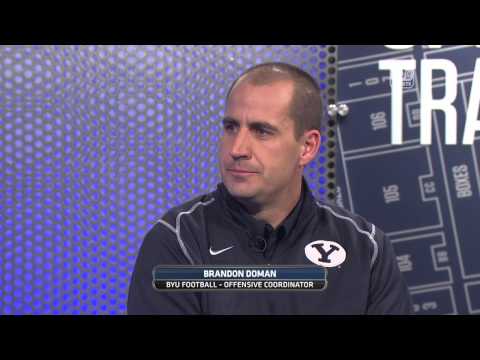 View 3 Items
BYUtv Sports

A lot of what I've learned coaching-wise, especially the defensive side, has come from him.

—BYU coach Bronco Mendenhall
PROVO — When BYU coach Bronco Mendenhall watches film of San Diego State — his team's opponent in the Dec. 20 Poinsettia Bowl — there's plenty of familiarity.
That's not just because the Cougars and Aztecs have a long history, having played each other for decades as members of the Western Athletic Conference and Mountain West Conference.
The Cougars will be facing SDSU coach Rocky Long, whom Mendenhall spent several years with as an assistant coach at Oregon State and New Mexico.
"A lot of what I've learned coaching-wise, especially the defensive side, has come from him," Mendenhall said of Long. "It's a unique chance to play against a mentor and a friend."
Long's teams have forged a reputation for being tough and physical, and San Diego State (9-3) is no different.
"Defensively, Rocky's teams always play really hard. Nothing's changed that way," Mendenhall said. "What's interesting to me is the flip to the offensive side. Man, the running backs run really hard. The offensive line blocks hard. They have some speedy wideouts. It's just the mindset. After having coached with Rocky, it's not a surprise. It's fun to see that it's permeated the whole program."
Also, the Aztecs employ a 3-3-5 defensive scheme, featuring five defensive backs. It's the same scheme that Mendenhall brought with him to Provo when he became BYU's defensive coordinator nearly a decade ago.
A few years later, after he became the Cougars' head coach, Mendenhall changed to a 3-4 alignment, featuring four linebackers.
"After our first year (as BYU's defensive coordinator), we had a lot of success defensively," Mendenhall recalled. "But then, after learning more about BYU, I really wasn't sure it was going to fit who we could bring to BYU on a consistent basis in terms of the number of defensive backs and skill set. We did a quick NFL study, looked at where all the best players were that were in the NFL from BYU defensively, and they were all front-seven players — defensive linemen and linebackers.
"I took the next best step. There is some deception in the 3-4. We don't play much man-coverage, which is kind of the staple of what I learned from Rocky, and blitzing and pushing the tempo. I really tried to adapt some of the principles that I learned there to BYU and the personnel that we could get. It took two years before we made the switch."
That switch has paid dividends. The Cougars are No. 3 in the nation in total defense and No. 2 in rushing defense.
That sets up an intriguing matchup, as the Aztecs boast the nation's No. 16 rushing offense, averaging 229.2 yards per game — with Adam Muema having rushed for 1,355 yards and 16 touchdowns. SDSU will be without running back Walter Kazee, who suffered a season-ending knee injury in its final regular-season game against Wyoming. Kazee rushed for 822 yards and eight TDs this season.
SDSU set a school record for rushing with 2,750 yards, eclipsing the 2,476-yard mark set when Marshall Faulk was a freshman in 1991.
Meanwhile, BYU's offense will be squaring off against a 3-3-5 defense that is No. 43 in the country in total defense.
"They're good. They're an effort-based defense," said Cougar offensive coordinator Brandon Doman. "First and foremost, they're a run-stopping defense, and they like to blitz, put pressure on the quarterback. They do a very effective job doing all of those things. We need to find a way to run the ball effectively and protect the passer. If we do those two things, I have great confidence in the plan to throw it.
"Then we're going to have to match or exceed their effort. We've been able to do that for a lot of years. I believe this group can do that. Otherwise, we'll have a really tough bowl game. It's going to be tough anyways, but it won't be any fun if we don't do any of those things."
Doman said the 3-3-5 "poses challenges in pass protection and running the ball. I don't think we have to cram the ball down their throat. I kind of look forward to the chess match a little bit. Hopefully we can do a better job offensively. I'm excited about the game and the plan that we have."
BYU quarterback Riley Nelson is looking forward to facing the Aztecs.
"When I watch them on film, they play really hard, they respect the game and they're a good team," he said. "When you play teams that have a good record but you can't tell don't play hard and take it for granted, it gets you on edge. San Diego State isn't that way. Their coach and their players really respect the game. They play with tenacity and intensity. That's what you want in an opponent. Hopefully we can match that. It will be a good, exciting game."
Email: jeffc@desnews.com
Cougars on the air
BYU (7-5)
vs. San Diego State (9-3)
Dec. 20, 6 p.m.
Qualcomm Stadium, San Diego
TV: ESPN
Radio: 1160 AM, 102.7 FM