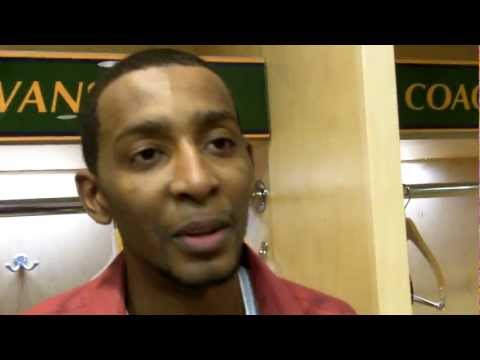 View 22 Items
Blaze Bullock



SALT LAKE CITY — No Al Jefferson? No Derrick Favors? No problem.
The Utah Jazz, with their big-man duo of Jefferson and Favors both benched by injuries, toyed with the visitors from Toronto for much of the first quarter, then unleashed a dazzling and dominant display the rest of the way to romp past the Raptors 131-99 on Friday night at EnergySolutions Arena.
"I thought our defense was really good," Jazz head coach Tyrone Corbin said. "Individually the guys did a good job of taking it upon themselves of playing their man. ... We got our hands on a lot of balls and, as a result, our offense really clicked. ... We didn't get off to the greatest of starts but, once we got going, we got into a good rhythm and it extended from the middle of the first quarter throughout the rest of the game.
"We did a great job sharing the ball, swinging it from strong side to weak side, making the extra pass, and got a lot of good looks as a result of that. It was fun watching 'em — the way they shared the ball, they ran the floor, they looked for each other, they made the right play, they supported each other. It's just a fun way to play the game.
"It was really pretty basketball," Corbin said, commending his players for continually finding the open man and hitting a slick 13-of-23 from 3-point range. "It's fun for the guys to play that way. I think the guys really had a good time playing tonight."
And the crowd of 18,069 had a good time watching it, too.
It's hard to believe, but Utah (11-10) actually trailed Toronto by 10 points, 27-17, late in the first period. But, fueled by a 38-point outburst in the second quarter, 32 points in the third period and 36 more in the fourth, the Jazz outscored the Raptors by more than 40 points after that to make that double-digit deficit in the first quarter seem absolutely meaningless.
The Jazz already had six guys in double figures by the end of the third quarter and wound up with eight in all — the first time that's happened since November 2008.
Old reliable, veteran forward Paul Millsap, led the way with 20 points and a game-high 10 rebounds, along with five assists and three steals.
Second-year center Enes Kanter, pushed into the first starting assignment of his NBA career due to the absence of Jefferson (back spasms) and Favors (plantar fasciitis in his foot), responded with a superb performance. The 6-foot-11, 20-year-old man/child had 18 points and eight rebounds — both of which tied his season high.
"Before the game, after I heard Al was not going to play and coach told me I was going to start, I was like really nervous," Kanter said. "And then Al came up to me and talked to me, and he just said 'I'm not going to play tonight and I want you to go out there and play like Big Turk. Just play like you played in preseason and just give yourself 100 percent and just fight, fight, and just help your teammates.'
"And that made me feel just so much comfortable. I felt so much better after I talked to him. So he helped me a lot. Tonight was my first start, and I was really excited.
"After awhile, I was like 'I'm not going to go rebound, I'm going to go back to defense,' " Kanter said of the way his teammates kept burying outside shots. "They played unbelievable today. Everybody hit their shot and everybody just played like we're the Utah Jazz — everybody played Utah Jazz basketball."
Gordon Hayward had 17 points off the bench, nine of those coming during Utah's second-quarter blitz when they outscored the Raptors 38-23. Marvin Williams added 14 points, including eight in the second period, and Randy Foye finished with 13 more along with three blocked shots.
"Everybody is ready, man," Foye, the veteran shooting guard who's in his first year with the Jazz, said of Kanter's king-sized contribution.
"Everybody at one point in time was the man somewhere. So I think that Big Turk did a great job for us tonight to be thrown into that situation."
Mo Williams had a double-double with 11 points and 10 assists, and DeMarre Carroll joined Utah's double-digit parade in the fourth quarter with a 3-pointer that gave him 11 points. He also grabbed eight rebounds and blocked a couple of shots.
And Jeremy Evans contributed a season-high 10 points, including a high-flying dunk that gave Utah its first 30-point lead of the night, 110-80, with seven minutes to go.
"This kind of performance is not acceptable," said Toronto big man Andrea Bargnani, who led the Raptors with 20 points and eight rebounds. "That's the bottom line."
email: rhollis@deseretnews.com