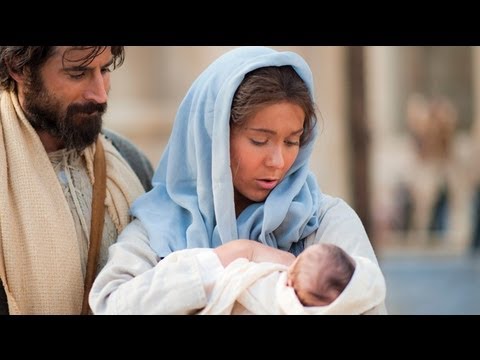 View 11 Items

For Christians around the world, the basic elements of the story are the same: Mary, a Galilean virgin, was visited by an angel from God, who told her that she was about to give birth to the long-promised Messiah. When the time came for the child's birth she traveled to Bethlehem with Joseph, her espoused husband, and delivered the baby in a stable. She shared her miraculous story with shepherds and wise men traveling from the east. She was at the Messiah's side later during his ministry, and was also present at his death.
Those essential facts about Mary are not in dispute among contemporary Christians. Beyond those facts, however, there is considerable variance of belief and doctrinal teaching regarding Mary in various denominations of Christian faith — and even beyond Christianity.
"The maternity of Mary is very important in the Catholic Church," said Father Javier Virgen, vicar for Hispanic affairs and vocation director for the Catholic Diocese of Salt Lake City. "A mother nurtures, cares, loves. These qualities are very significant in Mary's role as the mother of Jesus.
"She was chosen by God and endowed with all the gifts and capacity to become the mother of Jesus," Father Virgen continued. "We worship only God, but we venerate Mary and the saints. In Catholic teaching, you have to distinguish between worship and veneration. We do not worship (Mary); we venerate her. She has a special place in our thoughts and our hearts."
Pastor Logan Wolf of the New Morning Free Will Baptist Church in Provo said, "You can't underestimate Mary's role in the gospel story."
"Mary is the perfect example of a woman who yielded herself to God, yielded herself to truth," Pastor Wolf said. "But there's a danger of elevating her beyond what the scriptures tell us she was. She wasn't sinless. She wasn't perfect. She was a regular lady who God used in an extraordinary way."
A typical life
Camille Fronk Olson is a professor of ancient scripture at Brigham Young University and chair of the university's Department of Ancient Scripture. She has spent a good deal of her academic life studying the life and traditions of Middle Eastern families, and published "Mary: The Mother of Jesus" through Deseret Book.
"Because no reputable ancient record preserves anything about her life or her family before the angel Gabriel appeared to her in Nazareth, we therefore assume Mary's was a typical life for a Jewish girl," Olson said. That means she would have been taught primarily by her mother to work around the home and in all ways to prepare for marriage and motherhood, which would have happened fairly early in a girl's life — at least, according to contemporary standards.
"According to the Mishnah (the ancient Jewish oral law as it was written in A.D. 200), a girl was considered a minor when she was younger than 12 years old, of age to marry between 12 and 12-and-a-half years, and 'past her girlhood' when she was older than 12-and-a-half years," Olson writes in "Mary: The Mother of Jesus."
At the same time, she notes, young men were considered "fit for the bride-chamber" at 18.
And so Olson reasonably speculates that if Mary and Joseph were typical of other Jewish young people of their time, they were likely around 12 and 18 years old, respectively, when their families formally consented to — or even more likely, arranged for — their marriage.
The New Testament says that Mary and Joseph were "espoused" at the time of the angel's visit to Mary. According to Olson, this "constituted a legal marriage in that the young woman was permanently bound to the young man."
"In other words," she continued, "it was not simply an engagement in the way we use that term today. Any compromise of the groom's marital rights over the young woman made her liable to being legally punished for adultery … She was the wife of her betrothed."
Yielding to God
If Mary's life was typical up until the point of her betrothal to a carpenter named Joseph, it was during the time that she was espoused to Joseph that her life became extraordinary. The New Testament records that "the angel Gabriel was sent from God" to tell Mary that she was "highly favored" of God and that she would "conceive in thy womb, and bring forth a son, and shalt call his name Jesus" (Luke 1: 26-31).
"He shall be great," the angel continued, "and shall be called the Son of the Highest: and the Lord God shall give unto him the throne of his father David:
"And he shall reign over the house of Jacob for ever; and of his kingdom there shall be no end" (Luke 1: 32-33).
Although Mary wondered about the physical details of the angel's message to her, she didn't question the miracle or the part she was being asked to play in it. "Behold the handmaid of the Lord," she said. "Be it unto me according to thy word" (Luke 1: 38).
"Mary is a great example for all of us — men and women — today," Pastor Wolf said. "Look at how she yields herself to God without questioning or doubt. That's encouraging to me. That tells me if I yield myself to God, he can use me."
To Pastor Wolf, Mary's willingness to be used by God for his purposes is the perfect counterpoint to what he sees as a popular notion today that "God can't use me because I'm not perfect."
"Mary was human," he points out. "Mary wasn't perfect. And yet when God called, she yielded to him in such a way that he could use her."
Father Virgen agreed that from a Catholic perspective, "we can imitate her because of her 'yes' to the will of God."
"She was able to say 'yes' to the calling God gave her to be the mother of Jesus," he said. "We can imitate Mary in doing God's will in our daily lives. She is a model of faith and acceptance."
Doctrinal differences
Beyond the power of her exemplary submission to God's will — or perhaps because of it — Mary is an iconic figure in Christian history, complete with a set of doctrines to which many denominations subscribe.
Or not.
For example, Father Virgen points out that Catholics believe that as the mother of Jesus, "she has the power to intercede for us" in our pleas and prayers to God.
"As a mother knows her children so well, Mary knows her son Jesus," he said. "As a mortal, she also knows our special needs and the dangers of our lives. Because she knows her son and she understands our lives, she has a unique role of being able to intercede for us to him."
Father Virgen illustrates the concept with the New Testament story of the miracle at the wedding feast, during which the bridegroom "was embarrassed that he didn't have enough wine to serve his guests, and Mary went to Jesus and said, 'My Son, they don't have wine.' And then she said to the servants, 'Do whatever he tells you to do.'
"By this act, Mary shows the power of her intercession," Father Virgen said.
While other Christians are touched by the story, they don't believe Mary has an ongoing intercessory role in their spiritual lives.
"I believe we already have all the access we need to God," Pastor Wolf said. "The Bible focuses me directly on Jesus Christ. It's a God-centered perspective. The danger comes when you take Mary or David or Paul and elevate them to that level."
Other Marian doctrines considered in different ways by different faith groups include:
The Immaculate Conception of Mary, which holds that Mary was "one of only two persons — Jesus being the other — granted the privilege of being born without original sin," according to Father Virgen;
The Assumption of Mary, which Father Virgen says is a Catholic dogma indicating that "thanks to the merits of Jesus Christ, his passion, death and resurrection, Mary didn't die, but was taken up to heaven without experiencing death;"
The Perpetual Virginity of Mary, another Catholic dogma holding that Mary remained a virgin her entire life.
"While we may disagree on certain points of doctrine," Pastor Wolf said, "I think we can agree that Mary is to be honored and respected for the role she played and the example she set."
By studying the scriptural account of Mary, Olson added, "we can better recognize the facts that are important, the doctrines that are then made more evident, and personal applications that are appropriate."
An example and sign
The scriptures to which Olson was referring are the four gospels of the New Testament. But there are also references to Mary in the Book of Mormon (the pre-Christian-era prophet Nephi sees her in vision and calls her "a virgin, most beautiful and fair above all other virgins") and in the Quran.
"Many people may be surprised that Muslims love Mary, the mother of Jesus," said Juan Galvan, who identifies himself as a Mexican-American Catholic from Texas who converted to Islam. "In the Quran, no woman is given more attention than Mary. Mary receives the most attention of any woman mentioned in the Quran even though all the prophets with the exception of Adam had mothers."
Indeed, the nineteenth chapter of the Quran is named for Miriam, which is Mary in Arabic.
"The Virgin Mary plays a very significant role in Islam," Galvan said. "She is an example and a sign for all people."
Although Muslims embrace the concept of Jesus' virgin birth, they do not view it as evidence of his divinity. Rather, they see it as a sign, referring to Mary as "she who guarded her chastity" who, along with her son and the rest of the prophets, was created to confirm "the oneness of God."
From a Christian perspective, however, the Bible usually refers to Mary as a way of drawing further attention to her son, Jesus Christ, Olson said. As Mary herself proclaimed in a powerful passage of exultant scripture attributed to Mary and known as the Magnificat (Luke 1: 46-55), "My soul doth magnify the Lord."
"Through her experiences," Olson said, "Mary invites us to see our Savior more clearly. Her example as a mother and as a disciple heightens our perspective as we grow in awe of God's almighty goodness and power in our daily walk with each other."
Email: [email protected]