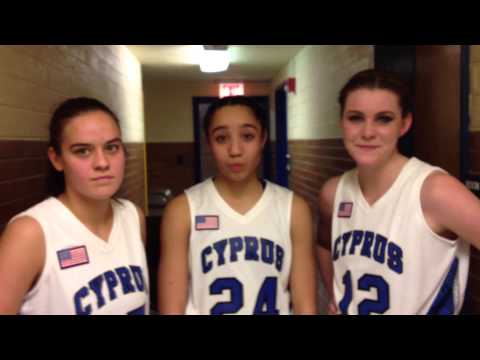 View 10 Items
Amy Donaldson, Deseret News

Our school underestimates us; the state underestimates us; we definitely have a chip on our shoulder.

—Cyprus guard Julie Caputo
MAGNA — It was a moment that she wanted back as soon as the whistle sounded..
Cyprus forward Abby Barrett dove for a loose ball, but upended a Fremont player instead and collected her fourth foul.
It was the kind of unnecessary foul that coaches rant about avoiding.
"I was all in my head, trying to rush through (the press), and I was probably trying to fill the shoes of Lori (Parkinson)," the senior said after she helped the Pirates to a 35-30 win over Fremont on Tuesday night. "We have to prove to people we're more than one star player."
Basketball season just started, but the Cyprus Pirates are already playing for redemption.
Their goal this season is two-fold — first, prove they can do more than just make the state playoffs; and second, prove they are more than just a supporting cast to last year's superstar, now playing for Southern Utah University.
The pressure of proving both of those things could be substantial, but this year's senior class said it's planning to share the weight.
"Everyone is underestimating us," said guard Julie Caputo, who finished with seven points. Added senior guard Marquessa Gilson, who scored 12 points, "Our school underestimates us; the state underestimates us; we definitely have a chip on our shoulder."
And then Barrett summed up the way the Pirates played against a tough but young Fremont squad. "We're not going to hold anything back," she said.
The Pirates fell behind in the first quarter, and it looked like the Silver Wolves might run away with the game after back-to-back transition baskets.
But then those determined seniors got some help from a shy sophomore — Talysa Swan.
"We're really proud of Talysa," said Cyprus head coach Josh Adams. "She did her job down low and played really well in a physical game. Her consistency helped us in a really chaotic game. Sometimes it's about basic things, and she did those basic things really well."
Swan finished with nine rebounds, and she and Barrett teamed up to keep Fremont's athletic forwards away from the boards. The effort earned her praise from her coaches and the seniors.
Barrett led the Pirates' scoring with 14 points, but both teams struggled from the free throw line. Cyprus was 10-of-25, while Fremont was just 3-of-12.
"We missed a lot, a lot of free throws," said Adams, adding that it was uncharacteristic of his seniors to be that inconsistent.
But he was proud of how his team handled Fremont's physical style and full-court press.
Fremont was led by Amanda Wayment, who finished with 13 points.
"We're struggling, but they're playing hard so it's hard to be mad at them," said Fremont head coach Lisa Dalebout. "It's frustrating that we're not finishing, and I was disappointed that we didn't (box out). But we're really young and they're trying. You can't come into Cyprus and play soft."
Email: [email protected]