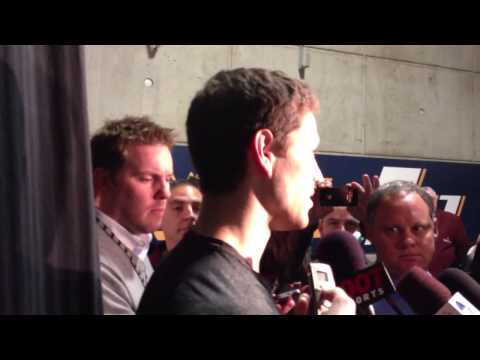 View 4 Items
Layton Shumway, Deseret News

SALT LAKE CITY —
The T-shirts Dylan and Amy Thomas were wearing said "Sacramento Kings" in a one type face and "Jimmermania" in script.
Yes, they cheered wildly when Jimmer Fredette entered Friday's Jazz-Kings game in the second quarter. Which says something about the enduring power of his name.
Why else would anyone put on a Kings jersey these days?
The Jimmer craze is finished nationwide, where many have concluded the former national player of the year is destined to be a career footnote. It's true he could use a change of scenery. Just take this week's game against the Lakers, for instance. The man played eight seconds. On the other hand, he played two-thirds of the second and fourth quarters in the Jazz's 104-102 win, much to the approval of a good-sized portion of the crowd at EnergySolutions Arena.
Those people had come for one reason: To bask one more day in Jimmerworld. Which raises the obvious question: How long can this continue?
"Until he stops playing," Dylan said.
"Until the day I die," added Amy.
That might not be the case for everyone, but it certainly seemed that way as far as the media is concerned. Forty writers, broadcasters and cameramen showed up for Fredette's pre-game interview session, crowding him up against a backdrop curtain. Asked how long he expects to see such intense media and fan attention in Utah, he said, "I hope forever."
Wherever he might be playing.
One thing seems certain in the continuing Fredette saga: His karma is still strong, back where the mania began. Friday marked Phase II of the Jimmer reclamation project. Phase I was last year, when hopes were high for the former BYU star, but results low. This year his production is up but his minutes down. You think the Kings are questionable in Sacramento, well, so is Fredette. He has been playing half as many minutes as last season.
Though he has had nice moments this year, coach Keith Smart seems to have made his choice. Fredette didn't appear at all in one game, played fewer than eight minutes in four others. His only significant time before Friday was 25 minutes against Portland on Nov. 13. That game gave rise to speculation that Smart might alter his plan, but not so. Fredette is the third point guard, which has spawned a "Free Jimmer" cry among his fans.
"His time is going to come," Smart said.
For some, it hasn't come quickly enough. A fan sitting 15 rows up waited impatiently through the first seven minutes of the game before loudly calling "Put Jimmer in!" during a timeout.
One minute later she shouted again: "Put Jimmer in!"
She yelled it out twice more before Smart got the message. Fredette started the second quarter, entering to a chorus of boos followed by a swell of cheers.
So it went through the game, boos from the majority but cheers from a sizable minority.
Some media are saying the Kings are shopping Fredette. Smart says it's just a case of having a boatload of guards. Asked about his future in Sacramento, Fredette said, "You know, I have no idea. You never know what's going to happen in the NBA. Obviously I'm here right now and I'm excited to continue to be a King, and however long it is that I'm here, if I'm here for my whole career, I love it."
None of that did much to change the Jimmer interest on Friday. While its true Fredette has fallen off the national radar, they still track him in Utah like the weather. His stories continue to get more Internet traffic in the local media than almost anyone. That's not hard to understand. Even now, he patiently refuses to complain about his minutes. Though he did play late in the fourth quarter, he was subbed out in the closing seconds for defensive purposes.
In other words, he played just enough to tantalize, finishing with 10 points, including three 3-pointers in 17 minutes. He noted before the game that he believes Smart has plans for his future.
"He thinks I'm going to be a great player in this league," Fredette said.
At least to the Thomases, and several thousand others at ESA on Friday, he was preaching to the choir.
Email: [email protected]
Twitter: therockmonster
Facebook: rockmonsterunplugged