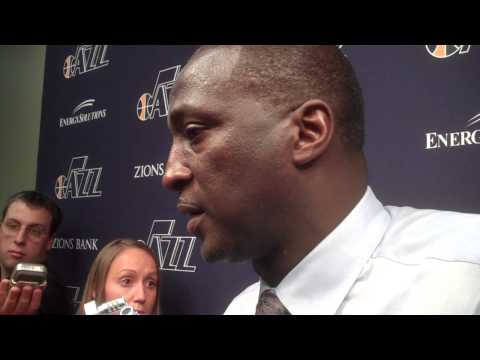 View 37 Items
Amy Donaldson, Deseret News



SALT LAKE CITY — Utah Jazz fans who participated in Halloween festivities, forcing them to arrive late to the team's 2012-13 season-opener at EnergySolutions Arena were in luck.
The Jazz saved their best treats — full-size candy bars, if you will — for the second half of their 113-94 blowout victory over the Dallas Mavericks on Wednesday.
"It was a great game, man," Jazz starting small forward Marvin Williams said.
A great second-half, at least.
But, hey, they'll take it.
What started out as a challenging night — an eight-point halftime deficit — turned out to be about as easy stealing candy from a dressed-up baby for the Jazz.
The reason for the turnaround sounds as boring as getting Smarties while trick-or-treating, but defense certainly sparked this rout.
Utah held the Mavericks to 31 points on 20.9 percent shooting in the whole second half, which included a 37-13 landslide of a third quarter. That came after Dallas, a night after beating the Lakers 99-91 in L.A., scored 63 first-half points despite the absence of bigs Dirk Nowitzki (knee) and Chris Kaman (calf).
"Defense. Coach really came at half time and he really emphasized our effort on the defensive end," Williams said. "I think the starters really came out and tried to set the tone defensively in the second half and it really worked out for us."
Did it ever.
"When you get beat by 24 in a quarter, that is a convincing beating," Dallas coach Rick Carlisle said. "We just didn't match their aggression in the third, and that was the difference in the game."
This type of domination on the defensive end wasn't the only welcomed addition to the building.
The team's new Williamses — Mo and Marvin — spearheaded a third-quarter surge and led all scorers with 21 points apiece.
"They have been super all training camp and it's going to transfer all season long," Jazz coach Tyrone Corbin said of the Williamses. "These guys are very proud guys. They are true professionals."
Another veteran addition, Randy Foye, impressed in his first Jazz appearance as well, scoring 13 points as one of six Utah players in double figures.
The three Utah newbies played critical roles in the second half.
Mo Williams gave the Jazz, yep, some big Mo when he hit back-to-back 3-pointers in the third quarter after the teams were tied at 74-all.
Mo Williams followed that with an aggressive scoring drive, and Marvin Williams drilled a 3-pointer to cap off a Mav-breaking 11-0 run.
The small forward and Foye finished off an 18-2 run with buckets to end the third quarter. Foye, Utah's backup shooting guard, hit a pair of treys in the fourth quarter to squelch what amounted to Dallas' final breath, after the Mavs scored the first four points of the final period.
Marvin Williams credited about everybody but himself — from God to the 13 Jazz players who all suited up and played on his first opening night with a team other than Atlanta.
"I wanted to come out and be aggressive tonight, and Mo had the same mentality. You could really see it out there on the court," Marvin Williams said. "Coming out and playing with these guys … they've been awesome. Coach has been awesome for making me feel comfortable. My teammates have made me feel comfortable since I've been there. They make it really easy to play out there."
The other Williams, who also dished out six assists, feels equally at home. That's not too shocking considering this was his first NBA home, of course.
"I am a veteran, you know. I have been around the block a few times. I am just excited to be a part of an organization that really values me," 10-year veteran Mo Williams said. "I am really blessed to be in that position. I am going to go out and give 110 percent every night."
The Jazz also feel some deep blessings when it comes to their bevy of bigs.
Utah outrebounded Dallas 61-40, led by three double-digit rebounding nights from Paul Millsap (13 points, 15 rebounds), Al Jefferson (12 points, 14 rebounds) and Derrick Favors (10 rebounds, two blocks).
"Rebounding is all effort, it's complete effort," Marvin Williams said. "We have four bigs that can really hurt you on the backboards. That will take us a long way, I think, this season for sure."
Jefferson loved the way the Jazz crashed the boards. Millsap matched the entire Mavericks in rebounding in the first quarter with nine.
"Oh yeah, that's the good thing about this team. We got a great rebounding team and we picked up our defense in the third quarter," Big Al said. "We proved that when we play defense, it opens up our offense."
Rookie Kevin Murphy saw his first NBA action, getting two-plus minutes of mop-up time. He had two points and one personal foul.
"That felt good to go out there and just to play and get a chance to play," he said. "Even if I didn't play I'd still been happy just be in this opportunity."
Jazz preseason sensation Enes Kanter sported a bandage over his stitched-up chin and a black cowboy hat with a skull on it after the game. Kanter had six points and seven rebounds in limited action.
The Jazz now travel to New Orleans to begin a three-game road trip.
EMAIL: [email protected], TWITTER: DJJazzyJody