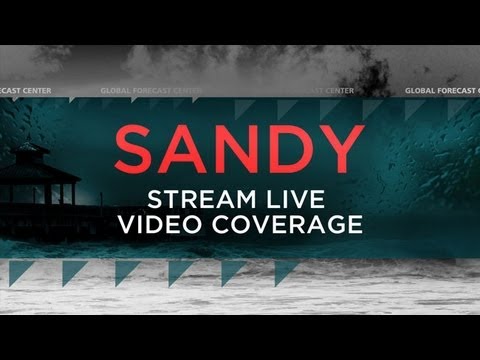 View 11 Items
YouTube

Superstorm Sandy barged ashore in southern New Jersey Monday evening, bringing 90-mph winds and a roiling wall of seawater as it moved inland and north toward New York City. The severe weather is affecting millions of people in 15 states spanning nearly 1,000 miles.
To stay on top of the latest, most recent news, here are five major news organization website links with continuous, live coverage of the superstorm.
The New York Times: Hurricane Sandy: Live updates
Huffington Post: Paul Douglas, Chief Meteorologist, 'WeatherNation TV' blog
U.S. News on NBCNews.com: Live updates on Hurricane Sandy
Time: Live updates on the superstorm
CNN: Live updates: Hurricane Sandy
Here are links to other resources, information and how you can help:
New York City Hurricane Evacuation Zone Finder
Hurricane Sandy: what to do if you're on one of the 9,000 canceled flights
How to prepare for a hurricane (ready.gov)
Map with location, forecast, more info (Google Crisis Response)
National Weather Service imagery, storm details
The Weather Channel's Hurricane Central
Red Cross
» Main: www.redcross.org
» Donate: www.redcross.org/charitable-donations
» Utah Chapter: www.utahredcross.org
Social media links for the organization:
To help, make a donation by visiting www.redcross.org, calling 1-800-RED CROSS (1-800-733-2767) or visiting the social media links above. You can text the word REDCROSS to 90999 to make a $10 donation. Contributions may also be sent to the local Red Cross chapter or the American Red Cross, P.O. Box 37243, Washington, D.C. 20013.

View Red Cross locations in Hurricane Sandy pathway in a larger map