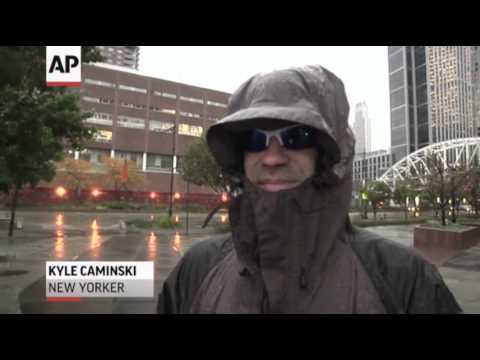 Associated Press
Residents around the New York City region had different ways of coping as the big storm approached on Monday. Here are some of the stories.
"We're going to ride out the storm in the house. We rode out the last storm and we're going to ride out this one," Barry Silverman, a dentist, said Monday morning at a bagel store in Merrick, Long Island.
His wife sounded less confident.
"I think by the time I get scared enough to move it will be too late," said Geri Silverman, a marketing manager.
"I'm pretty nervous; mostly the wind and the storm surge, because we only live about two blocks from the water," said Geri Silverman. Their neighborhood streets were already flooded. "So it's frightening. The winds are what scare me the most; the debris flying."
They moved one of their cars away from their house, so they could get out of the neighborhood if a tree came down on the road.
The lights are on at the New York Stock Exchange. But there's almost nobody home.
The building in Lower Manhattan was officially closed on Monday because of the storm.
There were no specialists or traders on the floor. But it was still business as usual for some security people, and construction workers who are modernizing trading posts.
On a typical Monday, the exchange is bustling as stock traders and back office people get ready for the 9:30 a.m. opening bell.
In Battery Park City, a network of high rises on the southern tip of Manhattan, people were out jogging and admiring the scenic view Monday as the Hudson River churned and white caps lapped at the shores. Floating bumpers protecting the ferry terminal bouncing up and down in the quiet morning.
Dominique Wesbecher, with her Wheaten terrier, Charlie, stood outside a parking garage waiting for her husband to bring the car. They live on the 25th floor and were concerned that if power went out, they'd have to use stairs to walk the dog.
"If it were just my husband and me, we would stay, but I was worried mostly about the dog," she said. So they headed to a hotel north in Midtown.
Ozzie Pomales, a doorman for one of the high rises facing the Hudson in Lower Manhattan, said almost everybody in the building obeyed the evacuation order in advance of the storm.
Sandbags blocked the building's revolving door and the entrances of other Battery Park City buildings.
Tanja Stewart and her 7-year-old son, Finn, who live in nearby TriBeCa, outside the evacuation zone, were among the people out admiring the white caps on the Hudson.
They had already closed up their Connecticut home.
Finn had a pair of binoculars around his neck. "I really wanted to see some big waves," he said.
Contributing to this report were Frank Eltman on Long Island and Karen Matthews in Manhattan.