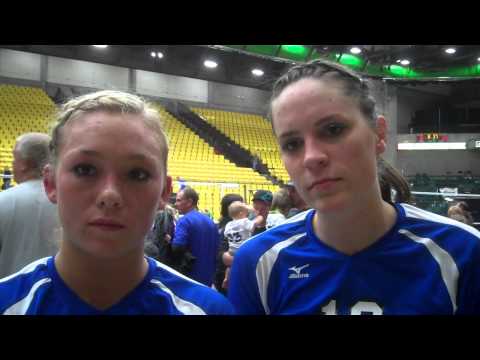 View 3 Items
Amy Donaldson, Deseret News

I was so scared, but I knew I had to stay aggressive. That doesn't mean I wasn't nervous.

—Richfield senior Sloane Roundy
OREM — Sloane Roundy ran at the volleyball and hit it with everything she had.
She swung without fear, without hesitation and without worrying what she and her teammates would lose if the ball sailed out of bounds.
"I was so scared," said the senior as she wiped tears from her eyes. "But I knew I had to stay aggressive. That doesn't mean I wasn't nervous. I was. I'm sure everyone else was too."
The ball rocketed past several Enterprise players and hit the floor just inside the back line for the final point of a marathon 2A state championship match. Richfield exacted revenge for an earlier loss to Enterprise this season with a 23-25, 25-20, 25-15, 22-25, 15-13 victory at UVU's UCCU Center Friday night in front of a loud raucous crowd.
"I knew swinging away was the only way," said Roundy, who was the 2A tournament MVP with 16 kills, 27 digs and seven aces in the championship match. "We couldn't give any free points to them."
The two-hour match featured some of the best volleyball ever played in 2A with lengthy rallies and impressive saves. Each team had three players with double-digit kills and digs, while each setter ran almost flawless offensive efforts.
Richfield setter McKell Lajeunesse finished with 32 assists, while Enteprise setter Taylor Phelps finished with 49 assists.
Wildcats head coach Brett Beagley fought back tears as he talked about the senior loaded team and what it meant to see them earn back-to-back titles.
"That's the best final I've ever been involved in," said Beagley. "It's amazing just to get to a state final, but to have the chance to go back to back. It's just amazingly sweet to win when you're supposed to win."
Beagley was proud of how his team battled, especially that they played ferociously when it mattered most. All of his players contributed to the victory, but he grinned when asked about Roundy's final kill.
"Sloane is such a great athlete," he said. "She's been doing that all season. She was just on fire on the back row. She changed the game. How many really good rallies did we have because both teams played such tough defense."
Roundy struggled putting the ball away early, but she didn't get tentative.
"She came back and put it away," he said, a smile returning to his face.
Last year's tournament and all-state MVP Megan Bean added 15 kills, 23 digs and seven blocks, while Sammi Beck led the team with 19 kills and 16 digs.
For Enterprise, coming so close to another title but leaving with the second place trophy was bitter-sweet. They were second two years ago and third last year. "It's tough because we've been through it so many times," said Enterprise head coach Brian Phelps. "We were the top two last year and we got beat in the semifinals. For these seniors, it's three years in a row without a state championship. It's tough on them."
The Wolves had outstanding play from Dakota Robinson, who earned 14 kills, 22 digs and four blocks, Riley Lyman, who was a monster at the net with 26 kills and 13 digs, and Anden Lyman, who added 11 kills, 30 digs and 2 blocks.
Bean said revenge was a factor, but more than that, the squad with seven seniors just wanted to finish their prep careers on top.
"That was just our goal from the beginning," said Bean. "At the beginning of the year we kind of struggled."
And the loss to Enterprise knocked them down to No. 2 in the rankings, which stung.
"It was a bummer, but we knew what we wanted," said Beck. "Which was taking state."
And as for Roundy's decision to swing hard with everything on the line, her teammates said they would have done the same. "I knew she was going to put it away," said Bean, holding the trophy on her hip. "I just ran toward her for the dog pile."
Beaver defeated North Summit for third place, while San Juan defeated Millard for fifth. Kanab defeated Gunnison for sixth place in consolation play.
Twitter: adonsports
Email: adonaldson@desnews.com
All-tournament team
MVP: Sloane Roundy, Richfield
Megan Bean, Richfield
McKell LaJeunesse, Richfield
Sammi Beck, Richfield
Taylor Phelps, Enterprise
Anden Lyman, Enterprise
Riley Lyman, Enterprise
Dakota Robinson, Enterprise
MaCail Wood, Beaver
Kaitlyn Rowser, N. Summit
Tatiana Su'esu'e, San Juan