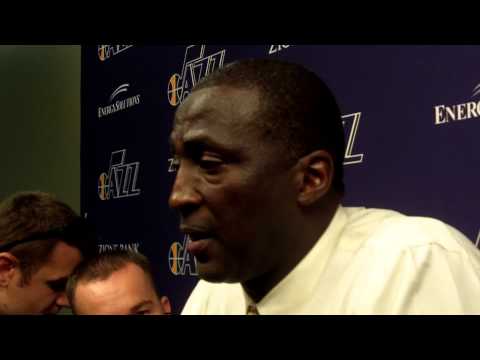 View 51 Items
Blaze Bullock - Deseret News

SALT LAKE CITY — Those two heralded No. 3 draft picks on the Utah Jazz roster hadn't really done much — at the same time, at least — until Thursday night.
But Enes Kanter the No. 3 pick in the 2011 NBA Draft and Derrick Favors, the No. 3 pick in the 2010 draft, showed Jazz fans a glimpse of what the future may hold as each scored 21 points and each shot 8 of 13 shooting to lead the Jazz to a 97-91 victory over Portland.
Of course it was just a preseason game, the final of eight for the Jazz who finished 5-3. However, Kanters and Favors weren't playing against the likes of Joel Freeland and Myers Leonard the whole night.
Portland coach Terry Stotts treated the game like a regular-season affair, playing four of his starters 33-plus minutes and leaving all five starters in the game in the final quarter when the Jazz played Kanter and Favors and the rest of the second unit.
In the fourth quarter when the Jazz extended a two-point lead after three quarters to the final margin, the two big guys combined for 21 points on 9 of 12 shooting, while also getting seven of the team's 10 rebounds.
"I thought Derrick and Enes did a great job of attacking inside," said Jazz coach Tyrone Corbin. "These are great experiences for our young guys to learn the game situations when it's tight and where to get the ball and go to the basket. They made some great passes to each other on the inside . . . it was great lesson for them in a game situation."
Corbin also praised each of his players individually.
"Enes did a great job. He continued to have a great exhibition season . . . he's big body . . . he's doing a great job of making guys pay . . . he's learned how to get the ball high and keep it high . . . his perimeter shot is getting better . . . he's continuing to get better."
As for Favors, Corbin said, "He's shown a great growth from the beginning of training camp to now and transferred it to the game tonight. He showed a lot of great improvement because his legs were back. He got the ball and made some quick moves to the basket being big and athletic inside and that's what we're looking for him to be."
While their coach was gushing about them and the Jazz fans who braved Thursday evening's snowstorm likely went home raving about their two young prodigies, Kanter and Favors both shrugged off their eye-opening performances.
"It's just basketball, no matter who the starters or bench players are, you just go out and play basketball," said Favors, who had struggled with his shot in previous games. "I just wanted to see shots go in — in previous games, the shots went in and out and I couldn't get into a rhythm.
"I'm just going to go out there and fight every minute," Kanter said. "I'm not worried about my points, my rebounds or how many minutes I play. Every second I'm on the court I'm just trying to do my best."
Favors and Kanter each played the entire second quarter and combined for 19 of the Jazz's 23 points, but the Jazz still trailed 47-45.
The two were part of a play that brought perhaps the loudest ovation of the game.
Kanter stretched out to block an apparent layup by LaMarcus Aldridge, which started a fast break that finished with Jamaal Tinsley hitting Favors for a dunk.
Tinsley didn't score, but he led the second unit from the point, dishing out six assists and getting four steals. Among the starters, Al Jefferson had a good night with 15 points and nine boards, while Paul Millsap, playing with a large bandaid near his left eye, and Gordon Hayward each scored 10.
For former Weber State guard Damian Lillard, it was a bittersweet homecoming. He was excited to play in front of a friendly crowd, which gave him a nice ovation before the game, but his team lost and he didn't have his best game, going 4 of 14 from the field and making five turnovers to counteract his five assists.
With a group of 70 from Weber State watching, Lillard appeared to be pressing a bit at the start He missed three 3-point tries and had a pair of turnovers in the first quarter. By halftime, he had four assists and four turnovers and four points on 2 of 8 shooting.
9
comments on this story
"For me it wasn't really about the crowd," he said. "I missed some good looks and probably could have taken better care of the ball. But they played a great game."
Lillard finished with 12 points, one of five starters to finish in double figures for the Trail Blazers. Former Jazzman Wesley Matthews, who received polite applause in the pre-game introductions, led the way with 24 points, while LaMarcus Aldridge had 19, Nicolas Batum 17 and J.J. Hickson 11 points.
The Jazz will open the regular season Wednesday at home against Dallas.
email: sor@desnews.com