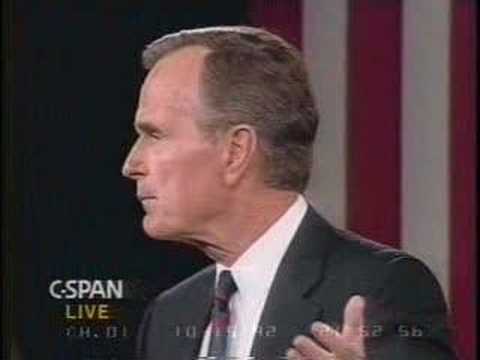 View 7 Items
YouTube


They're going to try to be empathetic with the questioner. 'I feel your pain.' It seems to some degree to discourage the effort to punch the other guy. It's not a combative atmosphere.

—Marc Landy
President Barack Obama and GOP challenger Mitt Romney are set to step on stage and into presidential tradition Tuesday evening, as voters get the chance to speak directly to the candidates.
The 2012 town hall presidential debate at Hofstra University in Hempstead, N.Y.. is the second scheduled debate between Obama and Romney. The event is set to begin Tuesday at 7 p.m. MT.
In 1992, President George H.W. Bush debated Bill Clinton and Ross Perot for the first time in the town hall format. The Associated Press described it as a "nerve-racking experiment in live television," but it turned out to be an enduring one.
Despite its longevity, the town hall format can be troublesome for some candidates, with memorable moments and campaign storylines emerging from past debates.
The 1992 debate came about after Clinton pushed for the format during negotiations with Bush and the Commission on Presidential Debates. During that event, Bush got into trouble while Clinton was in his element.
At one point during the debate, Bush looked at his watch just as a woman was beginning her question. The gesture suggested the president was out of touch with Americans, while Clinton's debate performances suggested he empathized with viewers, political scientist Kathleen Hall Jamieson told U.S. News.
During the 2000 debate between George W. Bush and Al Gore, Gore walked up to Bush during an answer, staring him down. Bush paused, nodded, and then continued his answer. ABC News lists the encounter as one of its top seven wacky moments of town hall debates, while Mediaite's Noah Rothman said Gore came off as neither masculine nor intimidating.
In 2008, Sen. John McCain strolled around the stage during the debate, leading his opponents to reinforce the idea that McCain was too old to serve as president, ABC's Amy Bingham wrote.
Twenty years after the first town hall presidential debate and four years after Obama's first town hall presidential debate, Romney and Obama will face a similar format as in the past, but with individual challenges.
Looking to recover from his panned first debate appearance, Obama will bring more energy to the second debate, officials in the Obama camp said Sunday. Obama campaign adviser David Axelrod predicted the president would be "aggressive in making the case for his view of where we should go as a country." Sen. Rob Portman, who has been helping Romney prepare for the debates, also predicted an aggressive showing from the president.
However, going on the attack during a town hall debate can have a negative effect, others have warned.
"It's not the right forum to really regain a major edge on Romney because the contest discourages argumentation," Marc Landy of Boston College told the Boston Herald. "They're going to try to be empathetic with the questioner. 'I feel your pain.' It seems to some degree to discourage the effort to punch the other guy. It's not a combative atmosphere."
The town hall format is also Obama's "worst format," Melissa Wade, a debate professor at Emory University, told CNN. The looser, classroom-like setting leads Obama into the role of academic, where he gives long-winded answers to questions from voters.
"He just can't help himself," Wade said.
Likewise, Romney faces his own challenges with the town hall format.
The setting reveals Romney's "harder edge," the Los Angeles Times suggested, citing a Romney remark where he told a college student to "shop around" when making educational choices. His practicality can endear him to some voters, but turn off others, the Times said.
"One of (Romney's) big challenges during this entire campaign has been not being able to connect with the common man, woman and child," Republican strategist Ana Navarro told CNN. "He's got to be able to come across as connecting, he's got to come across as genuine, as caring, as likable. I think we've seen a lot more of that from Mitt Romney in the last few days on the campaign."
Although both candidates will enter the debate with different goals, they've found common ground in expressing concerns with Candy Crowley, the debate moderator.
On Oct. 5, Crowley, CNN's chief political correspondent, suggested that she might question the candidates during the debate, saying that once the table is set by the town hall questioner, she would have time to step in and say, "Hey, wait a second, what about X, Y, Z?"
According to the agreement between the two campaigns posted by Time, Crowley's participation is meant to be limited, and she is not to rephrase the question or open a new topic. The agreement also specifies that the moderator will not ask follow-up questions or comment on the questions by the audience or the answers of the candidates, and should not intervene except to acknowledge audience questions, invite candidate comments or reinforce the time limit.
After both campaigns reached out the debate commission, the commission said it would discuss the matter with Crowley and reconfirm her function.
No matter what role the moderator plays or how the candidates perform, the power of this year's debates may be unique thanks to each candidate's strong negatives, Mark Goodman wrote at The New York Times.
"Both candidates have strong negatives — usually the death knell of a candidate," Goodman wrote. "In 2012, these strong negatives are translating into strong support for the other candidate. Or, a generally strong objection to both candidates, leaving people feeling like they must pick between two weak choices. Because of these strong negatives for both Obama and Romney, the debates may be decisive for many voters. They may find something they can support in a candidate on election day; they might find that their negative opinions are justified and so they decide not to vote."