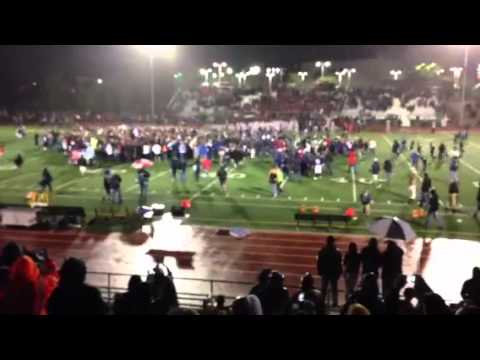 View 17 Items
Clark Gilbert

We haven't won in 23 years, so it's just intense. To get this victory is something like nothing else.

—Woods Cross senior QB Skyler Farnes
BOUNTIFUL — Rain-soaked but smiling, the Woods Cross student body crowded onto the track several minutes before the game even ended.
From cheerleaders to band members, they were determined not to miss a single second of a moment 23 years in the making.
After more than two decades of playing in the shadow of rival Bountiful, Woods Cross football stole the spotlight from the perennial powerhouse with a 14-0 win Friday night.
"We haven't won in 23 years, so it's just intense," said senior quarterback Skyler Farnes, who was accepting high-fives and hugs from students, parents and even the principal. "To get this victory is something like nothing else."
Head coach Justin Spencer was overcome emotion when he stopped to consider what his team accomplished and what it means to the entire school community.
"Just a flood of emotions, because we've tried so hard to not think about the outcome," said Spencer, as he watched the school celebrate on the field after the game, "to stay focused one play at a time. We had some lofty goals, and I'm just so proud of our boys, so proud of them. There have been difficult situations all along. I'm so proud of them for listening to their coaching and just doing everything we asked them to do and staying focused on every moment."
The game was won on the ground, thanks in part to great defensive efforts and in part to the constant drizzle of rain. Woods Cross senior running back Sean Barton was the key to the team's offense.
Barton scored the team's first touchdown at 1:39 in the first quarter — a 10-yard run. The kick was blocked by Bountiful's linemen. Neither team could put together a scoring drive until the fourth quarter when Woods Cross converted on fourth down twice to set Barton up for his second touchdown — a 4-yard run. Instead of attempting a kick, the Wildcats opted to try a two-point conversion they've been practicing for three weeks, Farnes said.
"We've had that locked in our pocket," said Farnes, who connected on a pass play to Filipo Mokofisi for the two points. "And it just came time to run it, and we executed it."
Spencer was proud of how the entire team played, including Barton, who was playing injured.
"He's got a separated shoulder and look at what he did," said Spencer. "I'm just proud of all of them, not just Sean, but he's fantastic."
Farnes said the offensive line "stepped up huge" to allow the team to move the ball on the ground. Barton carried the ball 29 times for 160 yards.
The Wildcat defense kept Bountiful from ever getting into a rhythm and gave up no big plays.
Coach Larry Wall called a gutsy play with nine seconds left in the third quarter when he faked a punt on fourth-and-3 deep in Bountiful territory. The play, executed by Sam Merrill, earned the Braves 16 yards and a first down. But the team couldn't capitalize and they punted the ball away a few plays later.
Spencer said the Wildcat coaches had done their level best to convince the players to focus on Xs and Os and not the rivalry.
"We came out with a plan to give credit to coach Wall," said Spencer, who is in his first year at Woods Cross. "I've never faced him. He's the best coach in Utah. We came together as coaches and said, if we're going to beat coach Wall, we have to play like coach Wall. That means play solid defense, run the football, play positions, play possessions. And we did it."
There was a stretch where both teams incurred some unsportsmanlike penalties, and Spencer said that was the very type of issue they were trying to avoid.
5
comments on this story
"We had one kid who got a little out of control," said Spencer of a penalty that doomed an otherwise promising drive. "He made a big mistake, otherwise we could have punched that one in."
Farnes believes the win will give Woods Cross momentum, as it ties the team for second place in Region 6. But Spencer said they were just going to enjoy something the community hadn't experienced since Duran Duran, Prince and the Bangles were topping the charts.
"We're going to enjoy the moment," said Spencer. "For the whole community, for the whole school."
Added Farnes, "It's just amazing. It's the best feeling ever, I can't believe it. It's just crazy."
Email: adonaldson@desnews.com