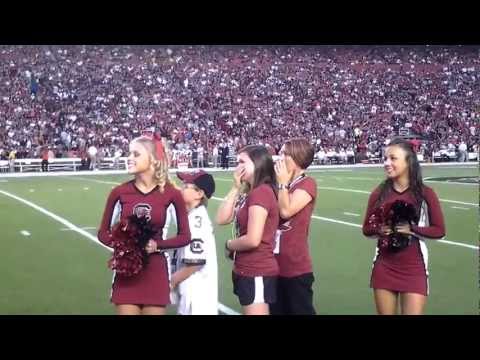 View 2 Items
GamecocksOnline

Even Georgia fans were just completely happy they were at that game when this happened

—Tammy Faile
Saturday in South Carolina, a team won and a team lost. But the real story is, an entire football stadium full of 85,000 fans were brought to tears long before the final score was posted, when they witnessed the reuniting of a local military family.
Even Georgia fans were just completely happy they were at that game when this happened, Tammy Faile, the wife of Army Sgt. 1st Class Scott Faile, told ABC News.
The Faile family was brought out onto the field during the halftime show and was expecting to be honored for their sacrifices during the Columbia Metropolitan Airport's 'Military Family of the Game.' They had no idea that in a few short minutes they would actually be able to see their loving husband and father, Scott Faile.
The video of the surprise homecoming shows Sgt. Faile appearing on the big screen and thanking his family for their love and support.
"Most fathers pride themselves as wanting their family to look up to them, but I have to admit that I'm the one who looks up to you all," Scott Faile said to his family during his video message.
The military father concluded his message by saying, "I will see you very, very soon"
Then, the already emotional Tammy and her two children saw the loving father, who has been in South Korea for about a year, emerge from the tunnel at the end of the field.
The family instinctively charged at the man they had not seen in a year and leaped into his arms all at once. According to WIS TV, 15-year-old Breanna Faile described the journey across the field to father as a bit of an obstacle course with her mom trying to make more tackles than the football players did all night.
1
comment on this story
"I didn't think I was going to make it to the big group hug because some people like to try and trip others or pull them back," Breanna said, hinting at her mother. "I'm thinking this woman's going to trip me."
South Carolina went on to destroy Georgia 35-7 in a game that will soon be forgotten and just another tally in the win column for the Gamecocks.
But what will never be forgotten is a family allowing the world to see them at a vulnerable state to remind people of the sacrifices that are made to keep our country free.
Email:wobannon@deseretnews.com