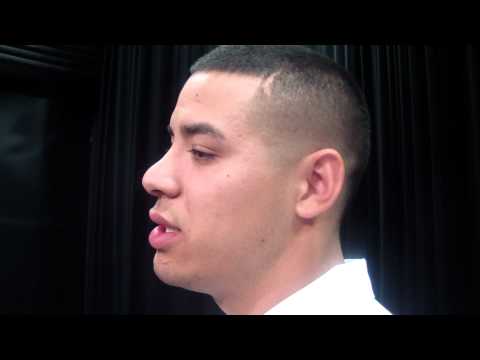 View 12 Items
Brandon Gurney, Deseret News



PROVO — The BYU men's basketball team held its media day Wednesday with a lot of optimism and a greater sense of identity. Six players return from playing prominent roles on the team last season with the addition of some junior college talent, a notable returned missionary and other newcomers.
"I think we all return with a greater sense of our roles on this team and with a better feel of what we all do and how to work with each other," said senior guard Brock Zylstra. "Last year I think a lot of us were trying to figure out how we'd fit in, but a lot of that was sorted out last season."
At this time last fall a lot of talk surrounded the 6-foot-6 Zylstra helping tend the point-guard position until then-freshman Matt Carlino became eligible to play in mid-December. That won't be the case this season with Zylstra ready to assume his natural wing position.
That's not to suggest those who will likely reprise the same roles seek to reprise the same performances. Take Carlino, who hopes to play with much more consistency after an up-and-down freshman campaign.
"Being a team leader and controlling the game from that point guard position," said Carlino on what he's trying to improve most. "I felt I did it pretty well as a freshman last year, but that first year to second year is going to make a huge difference."
Collectively the team seeks to shoot the ball with more consistency from the perimeter. Two guys that should help are sharp-shooter Tyler Haws, who is back from an LDS mission to the Philippines, and Raul Delgado, who hit 12 3-pointers in a game for Western Kentucky Junior College last season.
"We struggled shooting the ball from the perimeter at times (last season)," said coach Dave Rose. "I think we've added some great newcomers, but I'm really excited the young players who were on our roster and who got a lot of experience — to see how the offseason and their preparation will help them for this coming year. You're always excited to see your frontline, the depth of your squad and all those kind of things, but (I'm) particularly interested to see how well we can consistently shoot the ball over a long period of time"
Haws feels good and feels his shot is about back to where it was prior to his mission service. Delgado, meanwhile, dislocated his shooting elbow right after he arrived at BYU, but feels 100 percent entering the season.
One player who is not 100 percent is senior Stephen Rogers, whose knee is still bothering him. Rose mentioned it's a possibility that Rogers may miss the season as a result.
But Rogers himself remains optimistic.
"I don't like to think about it ever," he said. "In my mind it's going to work out and I'm going to be fine."
Replacing Noah Hartsock will be one of the biggest chores for the team with the hope that junior college transfer Agustin Ambrosino can provide minutes at the four-spot.
"I'm going to try and play my own game and help out wherever I can," said the 6-foot-8 Ambrosino. "Noah was an incredible player and I can't replace exactly what he did for this team, but I can just do the things I do well and hopefully things will work out."
2
comments on this story
Overall the team feels it has a good mix of old and new talent.
"We're excited and I think we have a good mix of guys that can go far this year," said senior Brandon Davies. "The first thing I thought when I started working out with the new guys and everyone else was that these guys can really shoot. I think we're going to a much better shooting team at all positions and I think we're closer as a team. We're excited to get going."
BYU will have its tip-off on Oct. 24 before facing Southeastern Oklahoma State Oct. 26 at the Marriott Center.
Email: bgurney@desnews.com, Twitter: BrandonCGurney