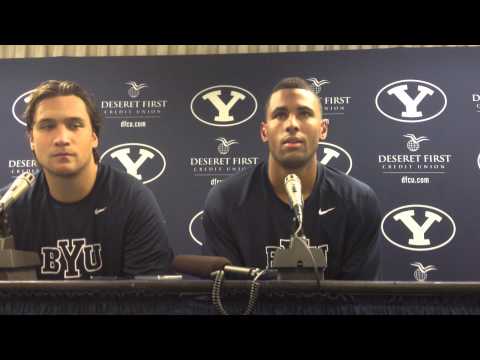 View 47 Items
Landon Hemsley, Deseret News



It was a fantastic college game, an excellent rivalry game. It was exhausting for both teams who laid it all out there.

—Cougar coach Bronco Mendenhall
PROVO — As many expected, it was a hard-fought, low-scoring, defensive struggle Friday night at LaVell Edwards Stadium.
In a game that featured two stout defenses, two sputtering offenses, and plenty of kicking misadventures, BYU defeated Utah State with a baseball-like score of 6-3 before a crowd of 63,086.
"They matched us down-in and down-out the entire game all the way to the very end," Cougar coach Bronco Mendenhall said of the Aggies. "I'd rather win easy, but that doesn't happen very much."
BYU has now won 17 consecutive games against USU in Provo.
Cougar quarterback Taysom Hill, who played the entire game, completed 24-of-36 passes for 235 yards with one interception and one touchdown. He rushed 19 times for a game-high 80 yards.
Utah State quarterback Chuckie Keeton was 22-of-38 for 202 yards and he had 23 yards on 10 carries.
The Cougars (4-2) held their 12th consecutive opponent to less than 300 yards of total offense, as the Aggies (4-2) gained 283 yards. BYU has not allowed an opposing offense to score a touchdown in 13 quarters, going back to the Utah game on Sept. 15.
"I was very impressed again defensively with how our kids played from beginning to end," Mendenhall said. "It was a fantastic college game, an excellent rivalry game. It was exhausting for both teams who laid it all out there. I'm just lucky and glad that we won."
Both teams went scoreless in the second half as the defenses took center stage.
In the first half, the Cougars put together solid drives deep into USU territory, but squandered their opportunities to score. They were stopped on fourth-and-one in the first half, and Justin Sorensen's 34-yard field goal attempt was blocked in the second quarter.
Meanwhile, late in the first quarter, the Aggies put together a 13-play, 49-yard drive that culminated in a 26-yard field goal by Josh Thompson. The drive took 6:04 off the clock, and USU led at that point, 3-0.
Late in the second quarter, the Cougars got on the scoreboard after starting a drive on its own 39-yard line. Hill connected with Cody Hoffman on three consecutive passes of eight, 28, and 22 yards, respectively. On first-and-3 from the USU 3-yard line, Hill threw a touchdown pass to JD Falslev with three seconds remaining in the half to propel the Cougars to a 6-3 halftime lead. Riley Stephenson missed the PAT attempt.
USU started its first drive of the second half on its 11-yard line. Cougar linebacker Spencer Hadley forced Keeton to fumble and defensive lineman Russell Tialavea recovered.
But BYU's offense couldn't capitalize on the golden field position. On first down at the 9-yard line, offensive lineman Braden Brown was called with holding, putting the Cougars in an immediate hole. Three plays later, BYU lined up for a field goal attempt. BYU tried a fake, but it failed miserably. Falslev, the holder, took the snap and looked to make something happen. But Falslev slipped and fell, giving the Aggies the ball at their own 23-yard line.
BYU's defense came up big again when Preston Hadley intercepted wide receiver Cam Webb at the USU 2-yard line on a trick play.
On their ensuing drive, the Cougars were marching, but they hurt themselves with more head-scratching mistakes.
A Jamaal Williams catch near the sideline gave BYU a first down at the USU 37-yard line, but a personal foul penalty on backup defensive back Matt Hadley — who wasn't in the game, but committed the foul while standing on the sideline — pushed the Cougars back. On the next play, Hill threw a pass that was intercepted by Aggie linebacker Kyler Fackrell.
Utah State drove to the BYU 20-yard line, but Thompson missed a 38-yard field goal, and the score remained 6-3.
60
comments on this story
The Aggies started their next drive at their own 6-yard line after a Stephenson punt. The Aggies were starting to drive when Cougar linebacker Uani Unga sacked Keeton for a nine-yard loss, which eventually forced USU to punt with a little more than two minutes remaining.
But the Aggies never got the ball back.
With 1:50 remaining in the game, the Cougars faced third-and-6 at their own 28, when Williams — who finished with 71 yards on 17 carries — took a pitch from Hill, raced toward the sideline. He picked up 11 yards to earn a huge first down, enabling BYU to run out the clock.
The Cougars host No. 14 Oregon State next Saturday (1:30 p.m., MT, ABC) while Utah State visits San Jose State.
Email:jeffc@desnews.com