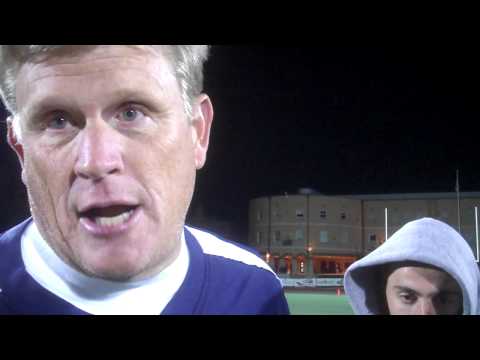 Amy Donaldson, Deseret News
I thought our defense executed so well. Rob Thomas and those defense coaches, put a lot of time in this week, and the kids, they executed. It was a lot of effort and a lot of heart of champions.

—Mustangs coach Mark Wooton
LOGAN — Eddy Hall got a text from 2010 Mr. Football Alex Kuresa asking him to do what the Mustangs could not the last two years — beat Logan High.
But when the senior running back told his former teammate he'd do his best to avenge the last two losses, he had no idea how big a role he'd play in No. 5 ranked Mountain Crest's 17-10 upset of No. 3 ranked Logan.
Unable to generate any offense in the first half, Mustangs coach Mark Wooton asked Hall, who played quarterback last year, if he could throw the ball.
"He hurt his shoulder last week," said Wooton of Hall, who separated his shoulder in last week's game and did not play the second half. "That's why he didn't throw real, real well today. But you give him a chance with the ball, and he's going to make things happen. He's a stud."
So at halftime, Mtn. Crest coaches took Hall to a small cement area adjacent to the field and threw the ball a few times.
"I thought we would throw a little bit more," he said smiling after the win. He promised his coaches he felt no pain when throwing the ball and they made the changing hoping to create some magic in the second half.
"He said it didn't hurt, but it probably did," said Wooton. "But that's Eddy — sheer determination."
Hall was exactly the spark the Mustang offense needed from the opening kickoff in the second half. On second and 10, he broke multiple tackles and then outran the rest of the Logan deense for a 57 yard rushing touchdown at 10:56 in the third quarter.
It was exactly the reason Wooton made the change.
"I felt like we weren't getting any momentum," said Wooton. "We were trying to make things happen. He was our quarterback last year, and he just makes plays. We weren't really moving the ball well. Anything we tried do run or pass, they were shutting us down. He was the one they couldn't really key on."
And that did not change when he moved to quarterback.
He finished the game with 197 yards rushing and 57 yards passing, completing 4-of-6 passes. Hall also punted and returned kicks for the Mustangs. Weston Kacey kicked a 38-yard field goal to tie the game with 2:30 left in the third quarter. It looked like the game might go to overtime until Hall led an impressive drive that ended with a five-yard touchdown run for his second touchdown of the game.
It was redemption for a team that has suffered back-to-back humiliating losses to Logan.
"All week long the kids focused," said Wooton. "They've been really embarrassed to be on the field with Logan the last two years. This is huge for these kids."
Wooton praised his defense for how it handled an offense that's been prolific this season.
"I thought our defense executed so well," said Wooton. "Rob Thomas and those defense coaches, put a lot of time in this week, and the kids, they executed. It was a lot of effort and a lot of heart of champions."
The Mustangs defense held Falk to just one touchdown pass — a 13 yard completion to Hagen Andersen at 9:32 in the second quarter. But later in the second quarter, the Mustang defense made the Grizzlies settle for a 38-yard field goal by Angel Reyes for their only other points of the game. Andersen had the best night receiving with 119 total yards.
Logan's Josh Wilson intercepted Mtn. Crest quarterback Jamison Webb just before halftime, but Falk and the Logan offense couldn't put any points on the board.
1
comment on this story
Falk completed 26-of-50 passes for 248 but just one touchdown. It seemed when it mattered most, the Mustangs were able to step up and stop the Grizzlies — twice when they tried to convert on fourth down in the fourth quarter.
"(The coaches and players) put in so much time," said Wooton of the effort of the team's defense in the days leading up to showdown between the two Region 5 rivals. "The coaches had it schemed so well. They did an incredible job."
The team was thrilled to remain unbeaten in region play, but Wooton was quick to remind them there are other football games to win.
"It's just one game," he said. "I know it's big; it's huge to the community. But if we go lose next week, what does it mean?"
email: adonaldson@desnews.com
twitter: adonsports