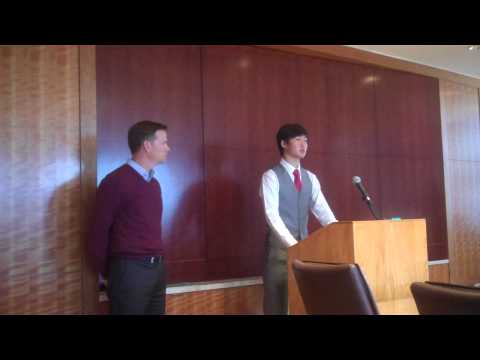 View 15 Items
Amy Donaldson, Deseret News




SALT LAKE CITY — On the same day Olympic bronze medalist Simon Cho admitted to bending the blade of a Canadian skater during the 2011 World Championships, an investigation into allegations against the coach the 20-year-old skater said ordered him to sabotage the Canadians concluded there was not enough evidence to support Cho's claim or the allegations of physical and emotional abuse against Jae Su Chun.
"At the end of the day, after reviewing all of the allegations and talking to those who spent every day with the skaters, we concluded that there was no evidence of a pattern of physical abuse," said Greg Little, attorney for the New York-based law firm of White and Case. "There was no pattern of emotional abuse. I want to emphasize that we're not condoning the methods or the tactics that were used by U.S. Speedskating coaches. We are also not questioning the sincerity of the skaters who made the allegations."
Cho's confession coupled with the findings of White and Case mean there will be no quick resolution to the controversy that has already threatened to keep some of the skaters who qualified for the U.S. fall World Cup team from skating with the national program.
It also means the skaters who qualified for that team will have to commit to skating with the U.S. national team by Oct. 13, and currently that team has no coach. Spokeswoman Tamara Castellano said they hope to have a coach in place by Monday at the latest.
Chun was placed on administrative leave Sept. 19, and his assistant coach Jun Hyung Yeo was named interim head coach. But Yeo was placed on administrative leave Friday after U.S. speedskating officials received an executive summary of White and Case's investigation, which confirmed that Chun and Yeo both knew of the tampering but failed to report it.
Little said they also couldn't substantiate Cho's claim that Chun ordered him to tamper with his competitor's skates.
"Based on our investigation, where we do not have subpoena power, witnesses were not testifying under oath, there was not the back and forth that you see in an adversarial proceeding like a trial or arbitration, our view is that there were conflicting, contradictory reports of what actually took place by three, now four, critical players. Based upon that, we did not feel there was sufficient evidence for us to say, as independent investigators, that it was more likely than not, that coach (Chun) told Simon to tamper with those skates."
Attorney for U.S. Speedskating Steve Smith said disciplinary proceedings have been initiated against Cho, Chun and Yeo regarding the tampering. There is no timeline for those proceedings, which could include hearings and arbitration.
Friday began with Cho admitting to bending the blade of Canadian skater Olivier Jean after Chun "repeatedly" and "aggressively" demanded that do so. The allegation first came to light in a demand for arbitration brought by 13 of the 14 skaters who said Chun was verbally, physically and emotionally abusive. Nine other skaters issued a statement of support for Chun a day later.
Cho was not included in either group, and in fact, he said he left to train in France for the summer so he could stay out of the brewing controversy.
"I'm deeply embarrassed and sad to confirm certain allegations that have been made in an arbitration (demand) brought by my fellow speedskaters against U.S. speedskating coaches," said Cho, who held a press conference to address the allegations at 10 a.m. (MST) in downtown Salt Lake City. "A year and a half ago, at the World Team Championships in Warsaw, Poland, after the U.S. had been eliminated from the competition, I tampered with the skate that belonged to a Canadian team skater after being pressured to do so by my coach Jae Su Chun."
That skate belonged Oliver Jean, who was unable to skate in the finals, but Cho said the action was not directed at Jean specifically.
"Although the skate belonged to Oliver Jean, I had no intention of singling him out," said Cho. "It was the biggest mistake of my life and one that I regret with all of my heart."
Cho said Chun initially made the request of Cho and his teammate Jeff Simon, who is one of the 14 skaters who filed a complaint against Chun and two assistant coaches in August.
"He first asked me in English because I was with my teammate, Jeff Simon, at the time," said Cho. "He asked us to mess up their blades. Initially, we both declined. He later came to me personally and made the same request in Korean. He made the request twice."
Cho said that Chun's decision to speak to him in Korean changed the nature of the request.
"When he spoke in Korean, I knew he was serious," said Cho, who is also Korean. "Because at this point, not only was he coming to me as my coach, but as my Korean elder, and when an elder makes a request, it's very difficult to deny."
The third time Chun approached Cho, he told him he would "take 100 percent responsibility" for the act. Cho said that when the two spoke about a month ago, Chun denied ordering him to tamper with the skates. He said he was intimidated and scared and succumbed to the request.
In a statement released through a spokesman on Sept. 16, Chun denied all of the allegations contained in the complaint. The allegations of tampering came out after Chun's denial and he has not issued a statement since.
U.S. Speedskating issued a statement expressing disappointment.
"We do not, under any circumstance, support, condone or tolerate this behavior," the statement said. "We expect our athletes to show respect for their fellow competitors and to uphold the highest ideals of sportsmanship and fair play and to represent themselves, their team and their country with honor. Simon's actions fall far short of these ideals, and are an egregious breach of our code of conduct."
Cho said Chun wasn't abusive toward him, but he confirmed some of the allegations made by other skaters
"I have personally witnessed some of the abuse in question," he said. "I was there when a water bottle was poured on a skater, when a notebook was thrown (at Jeff Simon)." Cho also said he would never skate for Chun again. Simon is one of the skaters who made the World Cup team but who said he will not skate for Chun or Yeo. Cho said he would never again skate for Cho, although he failed to make the fall World Cup team last weekend.
Little pointed out that there were two very polarized groups regarding Chun and Yeo and their coaching methods, and that there were other factors that may have contributed to the problems.
"First off, there was a significant increase in the volume and intensity of the training," he said. "Apparently it was part of the four-year Olympic cycle. For a variety of reasons, there was an absence of consistent athletic trainer support. And those short-term trainers often didn't know the athletes' bodies as well as someone who would have been there on a full-time, permanent basis. There was also the departure of two English-speaking coaches. And there was an overall decrease in the number of coaches, while at the same time, there was an increase in skaters on the team. There were a number of injuries and disappointing performances by the men's team, in the season."
That led to a reduction in funding for some of the men, in part, based on those poor performances.
"There was a general perception among the skaters," White said, "that no one at U.S. Speedskating would listen to their concerns, much less act on them."
email: [email protected]