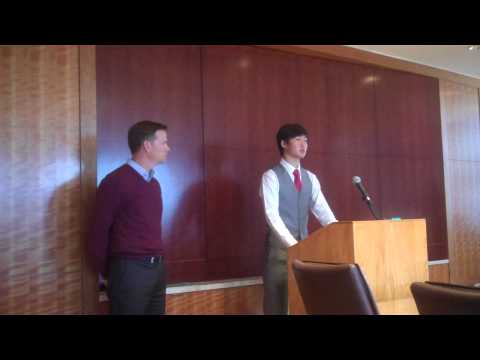 View 13 Items
Amy Donaldson, Deseret News


It was the biggest mistake of my life and one that I regret with all of my heart.

—Simon Cho
SALT LAKE CITY — U.S. speedskater Simon Cho admitted he bent the blade of a Canadian skater because he was intimidated and scared of U.S. Speedskating's now-suspended head coach, Jae Su Chun.
"I'm deeply embarrassed and sad to confirm certain allegations that have been made in an arbitration (demand) brought by my fellow speedskaters against U.S. speedskating coaches," said Cho, who held a press conference to address the allegations Friday morning in downtown Salt Lake City. "A year and a half ago, at the World Team Championships in Warsaw, Poland, after the U.S. had been eliminated from the competition, I tampered with the skate that belonged to a Canadian team skater after being pressured to do so by my coach Jae Su Chun."
That skate belonged to Oliver Jean, who was unable to skate in the finals, but Cho said the action was not directed at Jean specifically.
"Although the skate belonged to Oliver Jean, I had no intention of singling him out," said Cho. "It was the biggest mistake of my life and one that I regret with all of my heart."
Cho said Chun initially made the request of Cho and his teammate Jeff Simon, who is one of the 14 skaters who filed a complaint against Chun and two assistant coaches in August.
"He first asked me in English because I was with my teammate, Jeff Simon, at the time," said Cho. "He asked us to mess up their blades. Initially, we both declined. He later came to me personally and made the same request in Korean. He made the request twice."
Cho, who turns 21 in a few days, said that Chun's decision to speak to him in Korean changed the nature of the request.
"When he spoke in Korean, I knew he was serious," said Cho, who is also Korean. "Because at this point, not only was he coming to me as my coach, but as my Korean elder, and when an elder makes a request, it's very difficult to deny."
The third time Chun approached Cho, he told him he would "take 100 percent responsibility" for the act. Cho said that when the two spoke about a month ago, Chun denied ordering him to tamper with the skates. He said he was intimidated and scared and succumbed to the request.
In a statement released through a spokesman on Sept. 16, Chun denied all of the allegations contained in the complaint. The allegations of tampering came out after Chun's denial and he has not issued a statement since. U.S. Speedskating voted to put Chun on administrative leave while the allegations are investigated.
U.S. Speedskating has a press conference scheduled for 1 p.m. Friday, as well.
Cho said that after Chun asked him the third time to tamper with the skates, he agreed to do so. Chun was angry, Cho said, because he believed the Canadian team had aided another team in eliminating the U.S. team from the finals.
"I took my coaches bending machine and I bent the blade," he said. "He said that if I wanted to carry the team into the next Olympics, that I needed to do this."
Cho said the relationship between the two of them was good because "I was skating exceptionally well at the time."
Cho said Chun wasn't abusive toward him, but he confirmed some of the allegations.
"I have personally witnessed some of the abuse in question," he said. "I was there when a water bottle was poured on a skater, when a notebook was thrown (at Jeff Simon)." Cho also said he would never skate for Chun again.
Cho did call Jean last night and apologized and explained what had happened. He said the Canadian skater was very understanding. Cho hasn't spoken with any of his former teammates, despite having competed with and against them last weekend.
"I have not had contact with U.S. Speedskating," he said. "Unfortunately, I have not had any contact with the rest of the speedskaters for several weeks now."
Cho failed to make the U.S. fall World Cup team, in part because of the stress this situation has caused.
Comment on this story
"I was embarrassed and to be honest, I was mentally distracted," he said. "I feel like it took a toll on my performance."
He said the tampering charges would not have come to light had his U.S. teammates not filed a complaint against the coaches. He blames no one but himself for the possibility that he will now face punishment for tampering.
"Regretfully, I believe that telling him now would have been the best decision," said Cho. "I'm really disappointed about how this all came about, but I did what I did. ... At this point, the best thing I can do is be honest and take responsibility."
Email: adonaldson@desnews.com