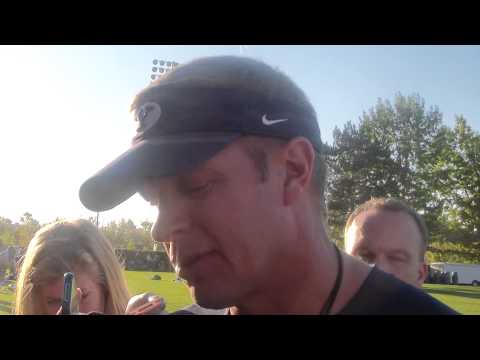 View 2 Items
Brandon Gurney

Riley's still beat up. Taysom took all the reps today. It will be similar to last week.

—BYU head coach Bronco Mendenhall
PROVO — For now, not much has changed with BYU's quarterback situation.
Like last week, true freshman Taysom Hill — who made his first start in the Cougars' 47-0 blanking of Hawaii last Friday — took the reps in practice Monday while senior Riley Nelson mostly watched.
It's likely that Hill will start again this Friday (8:15 p.m. MT, ESPN) when BYU hosts Utah State. But coach Bronco Mendenhall said Nelson, who is nursing an injured back, could play.
"Riley's still beat up. Taysom took all the reps today. It will be similar to last week. We'll just go as long as we can and see how it progresses during the week," said coach Bronco Mendenhall. "So much of it is based on how (Nelson) feels and his pain tolerance, which is really high. He wants to play desperately in this game. But he's also realistic.
"It's hard to predict. I'm following a very similar format to last week other than the chances are even more likely that he'll play than last week. But I thought there was a chance he'd play a week ago. So it's hard to tell."
Against Hawaii, Hill completed 12-of-21 passes for 112 yards with two touchdowns and one interception, and he rushed 15 times for 141 yards and a TD.
"We're all competitors and we all love to play football," Hill said regarding the prospect of starting again. "The more you get it, the more you want it. I had so much fun last Friday and I'm looking forward to Utah State … Right now, I'm planning on being the guy. That's my mindset and my preparation right now."
Offensive coordinator Brandon Doman wasn't surprised how well Hill played in his first start.
"I've been around him long enough to know that he's a football player," he said. "I didn't expect our entire offense maybe to play the way that it did. I was hopeful that they would. He's got great poise … If he continues to progress, he'll be a great quarterback at BYU for the next while."
Monday afternoon, an Internet rumor surfaced that Nelson's career was over due to his injury.
"It was pretty amusing," he said of the rumor.
Nelson said his back is improving.
"This weekend was the first time since the injury happened that I felt significantly better. We're taking steps towards recovery. It's hard because I want to play really, really bad. I feel better now than I did."
It was one year ago against the Aggies — the team he quarterbacked as a true freshman in 2006 before transferring to BYU — that Nelson replaced Jake Heaps, rallied the Cougars to a dramatic victory and took over the starting job.
How much does Nelson want to play on Friday?
"Extremely bad, but mostly because it's a quality opponent on a big stage," he said. "That's what you look for. I respect Utah State and their program. They're 4-1 and a missed field goal away from being 5-0. Those are the opportunities you look for, and being on ESPN and being an in-state game and all the things that come along with it.
"I'm going to do all I can to play. I will work with the medical staff and try to prepare myself and leave the decision up to the coaches and trust in their decision."
It was certainly difficult for Nelson to watch from the sidelines last weekend.
"I want to play every game and I want to be me every game," he said. "It wasn't so much the injury. Yeah, there was pain and limited physical ability, but psychologically I ceased to become me in my decision-making and all of those things. That's what eventually made it that I had to step back and sit down. That's the tough part about it, is feeling that an injury beat you … Sometimes you've got to step back and let yourself heal."
Doman said the coaching staff will wait to see how Nelson feels later on in the week.
"We'll make a decision that's right for this team … Riley's just not healthy. When he's healthy, we'll re-evaluate it at that point and get Riley back going and get him back in the swing of things."
Nelson, as always, is optimistic about his chances of playing against Utah State.
"I hope to be playing Friday, but there's no telling today," he said. "We've got five more days to figure that out."
Cougars, Aggies on the air
Utah State (4-1) at BYU (3-2)
Friday, 8:15 p.m. MT
LaVell Edwards Stadium, Provo
TV: ESPN
Radio: 1160 AM, 102.7 FM, 97.5 FM
Email: jeffc@desnews.com