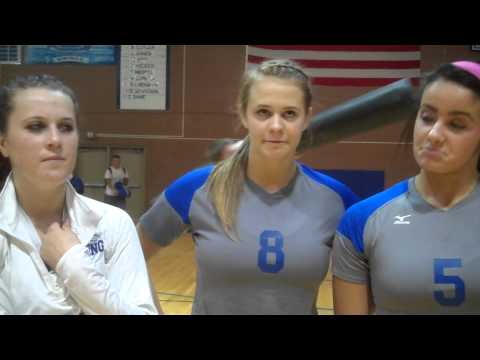 View 3 Items
Amy Donaldson, Deseret News

PLEASANT GROVE — The Pleasant Grove volleyball team felt they underachieved after losing to the eventual state champs in the 5A state tournament's second round last season.
"That's why we needed to change things up," said Pleasant Grove head coach Allyce Jones after the top-ranked Vikings swept Lehi 25-16, 25-22, 25-18.
So Jones and her assistants borrowed some techniques from other successful coaches, including UCLA's legendary basketball coach John Wooden and Duke head coach Mike Krzyzewski.
Jones said the system is designed to help the girls improve, but also to push them harder regardless of opponent or time of year.
Without giving away too many team secrets, senior outside hitter Melissa Fuchs said there are incentives to make sure they're giving their best effort every single moment of practice.
"We play in a tough region and we expect to be great," said Fuchs, who will play for Central Michigan next season. "We work super hard in practice. We work hard so that it doesn't matter who we're playing; we try to focus on what we're doing."
In fact, Jones said the goal is to work so hard, winning is the expectation regardless of the opponent.
"Our goal is to work harder than everybody else," she said, acknowledging they play in one of the state's deepest regions (the Pac-6, as she refers to it). "I've got girls coming into practice really ready to work hard."
Comment on this story
In Thursday's victory against a feisty Lehi squad, the Vikings relied on a powerful outside hitting game and a very effective middle attack. Setter Brisa Winterton distributed the ball well with 33 assists. Fuchs was almost unstoppable and finished with 14 kills. Middle hitter Gabrielle Jenkinson had just five kills, but she had a .833 hitting percentage and her effectiveness helped turn the momentum in the second set in the Vikings' favor.
"We wanted to establish the middle," said Jones.
Lehi was led by outside hitters Bre Bailey, who had nine kills, and Hailee Rupp, who added six kills.
Last year in region play the Vikings lost to Lehi, and Fuchs said beating the Pioneers "was exciting."
"We were anticipating this game to be really hard because they took second in state last year," Fuchs said. "So it really feels great."
Email: adonaldson@desnews.com