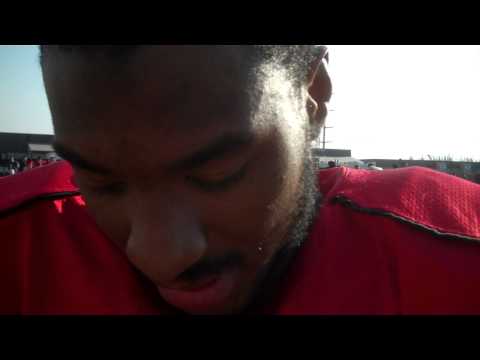 View 16 Items
Amy Donaldson


SALT LAKE CITY — Brian Blechen is back.
After missing the first three games of the season for an undisclosed violation of team rules, Utah's starting strong safety will be back on the field Saturday when the Utes open Pac-12 play at Arizona State.
"I'm real excited," Blechen said. "It's been fun cheering the guys on the last few weeks, but I can't wait to get back out there with them."
Prior to his suspension, Blechen had never missed a game. The junior started in all 26 games he played at Utah — making 145 tackles with 11.5 stops behind the line of scrimmage and seven interceptions.
Not being able to play against Northern Colorado, Utah State and BYU was difficult for him. Blechen said each week on the sideline felt like a month.
"You're really grateful for the game after missing a few games," acknowledged Blechen, who noted that he's become more of a disciplined player. He's put in extra work on and off the field, as well as in the film room.
The whole situation, Blechen added, has made him feel like he let the team down and taught him to be more accountable.
"If there is a positive aspect of this, it's that he has handled it the right way," said Utah coach Kyle Whittingham. "He's busted his butt. He's done everything he can do in the situation he was in to help us win by running the scout team."
Blechen, a former high school quarterback, spent much of his scout-team duty on offense helping prepare his defensive mates for players like USU's Chuckie Keeton and BYU's Riley Nelson.
"He was a quarterback for us. He was a receiver. Whatever we needed him to do, he was willing to do," Whittingham said. "He's probably worked harder on the scout team in the last three weeks — at least in practice — than he would have as a defender as far as the amount of reps he got."
Whittingham credits Blechen for working his tail off and having the right attitude throughout the suspension. He said the 21-year-old from Moorpark, Calif., has stayed in shape and been to all of his meetings.
"He's been working hard all fall camp and all during the first three weeks of the season," Whittingham explained while noting that Blechen has looked sharp with very little rust in practice.
"It's great to have him back. It really is. No one felt worse about his suspension than he did, and he knows he embarrassed himself and the team," said Utah safeties coach Morgan Scalley. "He handled the suspension like you should handle a suspension and went 100 miles per hour on scout teams. He gave us a great look. We almost feel like we're losing a great scout team player."
All joking aside, Scalley noted that Blechen brings a lot back to the defense.
"He's just so competitive," Scalley said. "He's very football smart and intelligent."
Although Blechen admits that his back pedal is a little rusty, he said that he is sprinting real well.
"Even though I haven't been in with the defense, I've been doing a lot of other work," Blechen explained. "So I feel good."
Blechen will be worked back into the swing of things with a more experienced cast competing for playing time. His backup, junior Quade Chappuis, leads the Utah secondary with 13 tackles and a forced fumble.
Scalley said that both Blechen and Chappuis will play against Arizona State. Primary duties, he added, will depend on how Blechen practices this week.
"We anticipate he's going to practice well. He's been running around full speed. He's in shape. But his productivity the past two years is something that you just can't ignore," Scalley said. "He's a very productive football player and brings a lot as far as football smarts and playmaking ability."
Pac-12 opener
Utah (2-1) at Arizona State (2-1)
Saturday, 8 p.m. (MDT)
Sun Devil Stadium, Tempe, Ariz.
TV: Pac-12 networks (Comcast 37, 757), Dish Network (413)
Radio: ESPN 700, Sirius (132), XM (190)
Email: dirk@desnews.com, Twitter: @DirkFacer