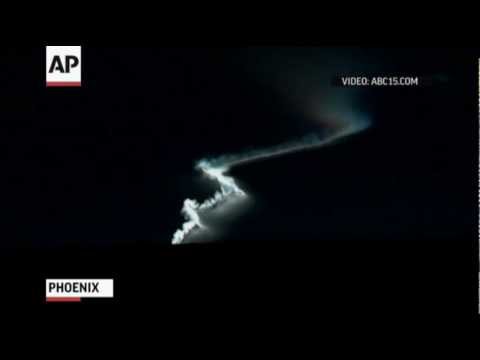 View 4 Items
Associated Press

PHOENIX — Some early risers across the Southwest saw a show in the sky, courtesy of missiles fired from New Mexico that left a brilliant white contrail.
Comment on this story
The twisting cloud-like formation was visible in parts of southern Colorado, Arizona, Utah and Nevada just before sunrise and prompted hundreds of calls and emails to area television stations.
A spokesman for the U.S. Army's White Sands Missile Range tells The Associated Press the contrail was from a Juno ballistic missile that was fired at 6:30 a.m. MDT Thursday from Fort Wingate near Gallup, N.M. The Juno missile was then targeted by an advanced version of the Patriot missile fired from White Sands.
The rising sun backlit the Juno missile's contrail and provided a spectacular morning sight for early risers across the region.