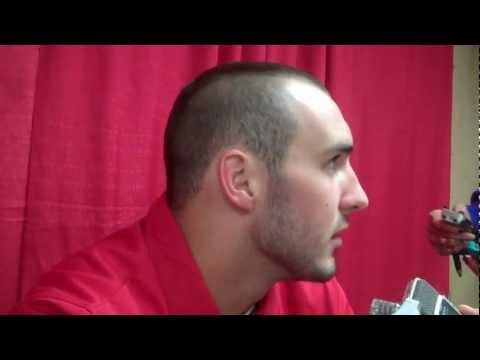 View 3 Items
Amy Donaldson, Deseret News


SALT LAKE CITY — Since the start of fall camp Ute coach Kyle Whittingham has expressed concern about his offensive line. Those concerns surfaced early and often in the Utah State game as Jordan Wynn was sacked three times in the first half and the O-line didn't open holes for John White.
"That's a place you'd like to have solidified, but we haven't been able to do that," Whittingham said. "It turns out we saw weak links Friday night and we're trying to get it fixed."
The Utes made a quick change in the first half, moving Sam Brenner from right guard over to left tackle where Miles Mason was playing and putting Latu Heimuli in at guard.
This week Brenner is listed as the starting left tackle with Vyncent Jones, who filled in for Jeremiah Tofaeono at left guard last week, taking Brenner's right guard spot. Tofaeono is listed as the starting left guard with Heimuli backing him up.
Meanwhile, Mason, who started 11 games last year for the Utes at left guard, is now listed as the co-backup at right tackle with Kala Friel behind starter Percy Taumoelau.
The one mainstay on the Ute O-line is center Tevita Stevens, who has started 38 games in his four-year career.
KRUGER IS IN: Whittingham confirmed that defensive lineman Joe Kruger will be able to play Saturday, despite getting ejected from Friday's game for apparently throwing a punch.
"He is cleared to play the game in its entirety this week, was the message we got from the Pac-12 office," said Whittingham. "It was termed 'striking an opponent' or something to that nature. That was a bit of good news, we needed some positive news."
As for Kruger's punch that sent him out of the game in the fourth quarter, Whittingham said, "The incident was not on tape on the coaches' copies," but he also he hadn't seen the TV tape of the game.
INJURY REPORT: As of Monday, coach Whittingham said he will no longer talk about injuries unless they are season-ending injuries. So for now, the only officially injured Ute player is quarterback Jordan Wynn.
After Friday's game, it was reported that starting free safety Eric Rowe might be out a couple of weeks with a hamstring injury.
However Whittingham wouldn't confirm that Monday, saying, "We're not saying he's completely out for the game. It's a work in progress and we'll see how he progresses."
If Rowe can't go, Whittingham said Tyron Morris-Edwards, Terrell Reese and Michael Walker are "in the mix" to play in Rowe's place.
PUNTING TOO FAR:Sean Sellwood, the four-year starter at punter, leads the nation with a 52.5-yard average and he tied a school record with six punts of more than 50 yards in Friday's loss in Logan. It seemed to be the one bright spot in the overtime loss.
However, his coach isn't necessarily that happy with Sellwood's booming punts this year.
"Sometimes you punt the ball so well, you out kick your coverage and we have to guard against that," he said. "We'd much rather have a 42-yard punt and no return with a fair catch than a 60-yarder (with a long return)."
As for the blocked punt in the first quarter that handed the Aggies a touchdown, Whittingham said the punt coverage team "blew an assignment."
UTE NOTES: This week's game with BYU begins Saturday at 8 p.m. and will be seen on ESPN2. … The Utes have won seven of 10 against the Cougars, including last year's 54-10 win in Provo. … Saturday's game will be Homecoming for Utah, marking just the second time ever the Utes and Cougars have met on Homecoming in Salt Lake, with the Utes winning the other, 30-21 in 1968. … Utah is 56-31-4 in Homecoming games, very similar to its all-time record against BYU (55-34-4). … After Saturday, the Utes begin Pac-12 play at Arizona State the following Saturday.