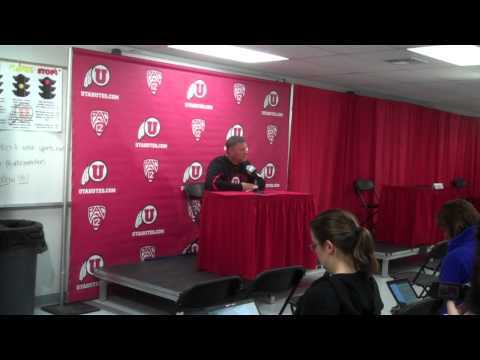 View 5 Items
Amy Donaldson, Deseret News




SALT LAKE CITY — Utah quarterback Jordan Wynn is calling it a career. The junior, who injured his left shoulder in Friday's 27-20 overtime loss at Utah State, informed head coach Kyle Whittingham of his decision Monday morning.
"He's going to move on to life after football," Whittingham said."He's fought the good fight and he's come back. But this is the fourth time he has injured his shoulder and enough is enough."
Wynn's latest injury came with 1:04 remaining in the first half at USU when he was hit while throwing an incomplete pass. Although initial X-rays were negative, it now appears his non-throwing shoulder will require surgery. Wynn has had three shoulder operations (two on his left, one on his right) since the spring of 2010.
"He's talked to his father and he's going to hang up the football," Whittingham said, while praising Wynn for his toughness and resiliency. "We're all on the same page. If he's my son, I'd probably encourage him to do the same thing. So that's where we're at."
Wynn retires as one of just 11 quarterbacks in school history to pass for 4,000 yards, ranking eighth overall with 4,637. His 33 touchdown passes rank sixth.
"He's a tough kid and I want to reiterate that we appreciate what he's done for us and what he's given the program," Whittingham said.
Wynn was 14-7 as Utah's starter, winning the job over the final five games of 2009. He capped the best season in school history by a true freshman quarterback (104-of-179 passing for 1,329 yards and eight touchdowns) with MVP honors in the Poinsettia Bowl.
As a sophomore, Wynn completed 186-of-299 throws for 2,334 yards and 17 touchdowns in 10 starts. In 2011, he connected on 66 of his 116 passes for 727 yards and six scores before suffering a season-ending shoulder injury midway through the fourth game of the season.
Hays took over and went 6-3 as a replacement starter. Wynn, however, won the job back this season after undergoing extensive rehab on his surgically repaired shoulder. He received a medical redshirt extension from the NCAA, giving him two seasons of eligibility.
In his final two starts, Wynn was a combined 25-of-38 passing for 247 yards and two touchdowns.
"There's still some medical tests that have to be made. (But) it looks pretty obvious and plain he's going to need surgery," Whittingham said. "I guess until it actually happens, nothing is ever a done deal. But that is the direction that everybody at this point and time is going to go."
Although Wynn has fought hard in coming back from injury in the past, Whittingham noted that he's just ready to move on this time around. The former Oceanside (Calif.) High School star has already earned a degree in economics.
"That's the reason that you're here," Whittingham said. "To do that in 3 1/2 years is remarkable."
Wynn will remain in school (working toward a second bachelor's degree) and stay with the team for the remainder of the season. He's already spoken with Whittingham about the possibility of pursuing a career in coaching. For now, Whittingham said Wynn will help listed co-starters Hays and true freshman Travis Wilson each week.
Wynn was unavailable for comment, but teammates Dallin Rogers and Quade Chappuis addressed the situation at Utah's weekly press conference on Monday. Both acknowledged it's a difficult thing for Wynn.
"(Jordan) is one of my good friends," Chappuis said. " It's something that he wanted to do, so you've just got to support his decision."
Rogers added that his heart goes out to Wynn and that the team will continue to love and support him.
The Utes (1-1), though, are moving ahead. They face rival BYU on Saturday and begin Pac-12 play the following week at Arizona State.
"We have full faith in Jon Hays. He led us last year, so we're confident in that aspect," Rogers said. "We've just got to keep working hard, keep grinding every day and I think we'll be OK."
Whittingham said that Hays and Wilson will battle for the starting job in practice this week. He noted that Hays has the obvious upper hand in terms of experience. Wilson, however, will be given a shot at the job after impressive showings in spring ball and this fall.
"We won't name a starter," Whittingham explained. "We'll trot one out there at game time and that will be our guy."
If Hays is the starter, Wilson will continue operating in a supplemental role. If Wilson prevails, Hays will be a traditional backup.
Whittingham said there are no plans to modify the offense, as was the case a year ago when running back John White had a high number of carries, because the staff is more comfortable with the replacement quarterbacks.
Hays, he continued, is markedly improved.
"We've got a lot more confidence in him now," Whittingham said. "I'm not saying we had a lack of confidence last year, it was a lot of unknowns. We didn't know how he'd react, so we were much more close to the vest."
Wilson, meanwhile, has shown what he's capable of doing as well. He's appeared in both games this season.
"May the best man win," Whittingham said.
Jordan Wynn press conference
Utah quarterback Jordan Wynn will meet with the media Tuesday at noon to discuss his situation. It can be seen live on http://pac-12.com/live/utahutes.aspx.
Utah's trio of quarterbacks
Shoulder injuries have sidelined freshman Chase Hansen and junior Jordan Wynn, leaving the Utes with three scholarship quarterbacks entering the third game of the season.
JON HAYS (6-0, 208): The senior rallied the Utes from a 13-0 deficit to a 20-20 tie at the end of regulation at USU. Completed 12-of-26 passes for 154 yards and a touchdown against the Aggies. Hays threw for 1,459 yards and 12 touchdowns last season making a start in six victories.
TRAVIS WILSON (6-6, 220): True freshman from San Clemente, Calif., is 3-for-3 passing for 49 yards and a touchdown at Utah connecting on a 28-yard flea flicker to Kenneth Scott in the loss at USU. Wilson rushed for a pair of scores in the season-opening victory over Northern Colorado.
ADAM SCHULZ (6-1, 203): Redshirt freshman from Muskego, Wis., has yet to play this season. May have the strongest arm of the group.
Email: dirk@desnews.com, Twitter: @DirkFacer