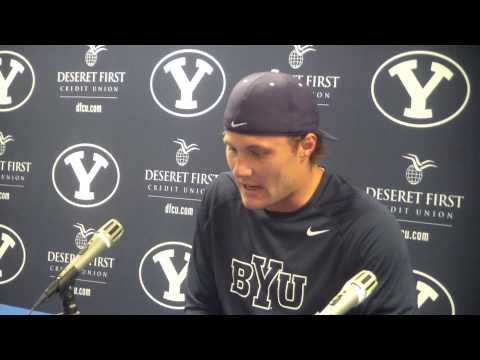 View 40 Items
Brandon Gurney, Deseret News



BYU football: Cougars take care of business against Weber State
PROVO — One of the best things about a comfortable win is the opportunity for coaches to clear their bench. BYU coaches did just that during much of the second half in their team's 45-13 win over Weber State.
Second, third and even fourth-team players saw plenty of action in the later stages of the game and responded well.
"It was good for morale," said head coach Bronco Mendenhall about emptying his bench. "It was good for these guys, they work hard and it was good to get them to go play football."
Many new faces found their names on the stat sheet while others contributed in ways that didn't show up in the stats. One of those players was injury-plagued tight end Devin Mahina who contributed an 18-yard reception to set up BYU at Weber's 1-yard line. A play later quarterback Taysom Hill snuck the ball in for the Cougars' final score of the game.
Mahina was primed to compete for and even secure the starting tight end position at the start of fall practices, but sustained a broken hand just one week into the practice session. He's since battled back and will in no doubt benefit from Saturday's performance.
Defensive end Bronson Kaufusi recorded his first sack of his career late in the fourth quarter just six months removed from his LDS mission service to Auckland, New Zealand. The former Timpview standout wasn't out there for the first time, having logged time during passing situations against Washington State last week, but saw extended time late in the fourth quarter.
"It felt great — it was amazing," said Kaufusi about the first sack of his career. "I haven't had that feeling for a long time, but it felt amazing and I hope it's the first of many."
Kaufusi is still getting back into game shape, but has taken a crash course in providing good and consistent play since returning home.
"I ask a lot of questions and I'm pretty sure the guys get sick of me asking so many questions, but I want to learn and I want to learn fast," said Kaufusi. "I'm still getting used to playing, but today was great because it's one thing to practice and then actually get a sack."
One of those players he's been loading up with questions is senior defensive lineman Eathyn Manumaleuna. Like most of the defensive starters, Manumaleuna was able to sit back and observe his understudies at work.
3
comments on this story
"It helps them learn and grow and get that experience," said Manumaleuna. "We want them to be prepared for the upcoming games and the upcoming seasons and things like that, so it's great to see them get in, get their timing, get experience and more of a feel (of game situations)."
Prominent among the bench players benefiting from the extra playing time were backup quarterbacks James Lark and Taysom Hill. Lark led the offense in the third quarter — scoring a touchdown run of six yards — his first in his career. Hill took over in the fourth quarter and scored his second touchdown in as many games.
email: bgurney@desnews.com