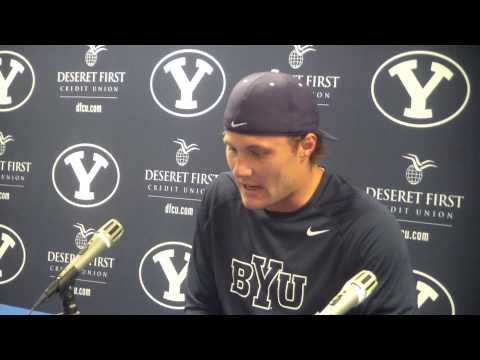 View 40 Items
Brandon Gurney, Deseret News



BYU football: Cougars take care of business against Weber State
OFFENSE:
The Cougars got off to a sluggish start and were forced to punt on their first two possessions. Things started clicking late in the first quarter when Riley Nelson and Cody Hoffman hooked up for their 37-yard touchdown pass play. BYU racked up 532 yards of offense and had a fairly balanced attack (307 yards passing, 225 yards rushing), but the overall offensive sharpness and focus wasn't there at times and, remember, this was against an FCS opponent. Back spasms affected Nelson, giving backups James Lark and Taysom Hill opportunities. On the ground, Michael Alisa and JD Falslev had their moments while rushing for 53 yards apiece.
Grade: B
DEFENSE:
The Cougars were especially stingy in the first half, holding the Wildcats to just 85 yards and zero points. BYU took a step back, however, in the second half, which saw more reserves and mental mistakes. Preston Hadley led BYU with nine tackles, Spencer Hadley had two sacks, and Daniel Sorensen and Uona Kaveinga each had fumble recoveries. Though BYU gave up two TDs and seven more points than it allowed in the opener to Washington State, the Cougars held the Wildcats to just 254 yards of offense.
Grade: B+
SPECIAL TEAMS:
Other than one out-of-bounds kickoff, this was a near-flawless special teams effort by BYU. Kicker Riley Stephenson hit all six extra-point attempts, booted a 33-yard field goal and averaged 53.2 yards on five punts. The Cougars also blocked a PAT attempt, had good returns on kicks from JD Falslev, Joe Sampson and Cody Hoffman, and didn't allow the Wildcats any big returns.
Grade: A
OVERALL:
This game started slowly but went about as expected for BYU, which got a blowout home win and sent some much-needed cash back home with their neighbors from the north. The Cougars had enough highlights to make fans happy and make the final score look like a walloping, but they also had lapses in which their offense struggled more than it should've against an FCS foe. The defense also softened up in the second half after pitching a first-half shutout. All in all, though, it was a fine warm-up act for next week's big showdown in Salt Lake City.
Grade: B+
EMAIL: jody@desnews.com
TWITTER: DJJazzyJody