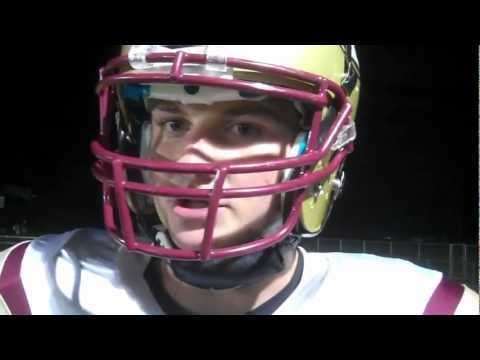 View 14 Items
Amy Donaldson

BOUNTIFUL — Hunter Ballam admitted that being asked to play a new position just one play into a game against one of the state's best teams was a little intimidating.
"I was scared out of my mind stepping up into the free safety position," said the senior who had the best night of his prep career with four interceptions in Logan's 35-14 victory over second-ranked Bountiful. "But things just came together for me. … Tonight was so surreal."
He couldn't stop grinning as his teammates and coaches congratulated him on leading a defensive effort that helped the Grizzlies overcome the loss of three starters, including the man he replaced, free safety Chase Nelson, the younger brother of BYU quarterback Riley Nelson.
"One per game is good for me," he said. "I had to step in for him and kind of learn on the go."
Ballam isn't the only one being asked to learn on the fly. Logan has suffered nine injuries to starters — three of which occurred in Friday's win over Bountiful.
The constant change and shift of personnel might bother some teams, but apparently the defending state champs are as adaptable as they are athletic.
"This is one of the great wins in Logan High history to come down here with that many starters out and beat a team like Bountiful," said an ecstatic Logan head coach Mike Favero. "I've never experienced anything like this. You just have to try and find a way to deal with the situation. This is just a case of good kids dealing with adversity really well."
Favero said that his defense has been hit hardest by the injuries with five starters now out, some for the season.
The first quarter started with Bountiful scoring after an eight-play opening drive that ended in a 14-yard pass to Tanner Redding from Jordan Hayes. Logan answered thanks to the first interception by Ballam, which gave the Grizzlies short field position.
Senior wide receiver Jesse Braddy scored on a 1-yard run, and that would be the first of four touchdowns from Braddy. He finished with 15 catches for 175 yards and four touchdowns — two catches and two rushing.
Bountiful answered in the second quarter with a 5-yard run from Jakob Hunt, who had an impressive first half. Logan was able to answer after a pass interference call gave Logan the ball on the 4-yard line. Grizzlies senior quarterback Luke Falk connected with Zack Rich for a 4-yard pass play.
Falk had an impressive outing as he went 32-for-46 for 329 yards and three touchdowns. He threw one interception, a long ball that Bountiful quarterback Jordan Hayes, who also plays safety, snagged in one of the most exciting catches of the night.
Falk spread the ball out, but it became clear mid-way through the third quarter that Baddy is a favorite target. Falk, who played part of last season at a California school before returning to his hometown of Logan, said he doesn't look for anyone in particular when he steps back to throw.
"Whoever is open," he said. Despite his impressive performance against a tough defensive squad, Falk said the win started with the defensive effort and his offensive line. The team lost its starting left tackle mid-week to a torn ACL.
1
comment on this story
"We give everyone reps, and we have good chemistry," he said. "But my O-line is awesome and Braddy is definitely one of our go-to guys."
Kicker Angel Reyes came in and kicked three PATs after starting kicker and wide receiver Jake Thompson left the game with an injury.
Falk, Favero and Ballam said the win against the Braves was especially sweet as Bountiful opened the season with a win over Lone Peak.
"It was awesome," said Falk. "Our defense stepped up. Hunter Ballam, good night! He'll get a few more stickers (for his helmet) than the rest of us. What a game."