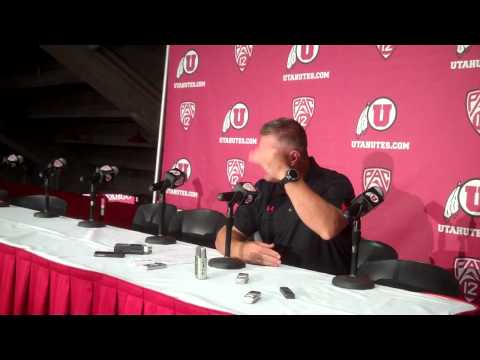 View 30 Items
Amy Donaldson





SALT LAKE CITY —
The crowd had thinned, the adrenaline had calmed, the outcome was long decided.
It was all over but the piling on.
Which isn't necessarily the way either team wanted it. But a pick-six by Joe Kruger put the finishing touches on a one-sided weeknight game: Utah 41, Northern Colorado 0.
On one hand, the Utes crushed a smaller-division team on both the scoreboard and on the field. Consequently, they got to check out two quarterbacks, three running backs and eight receivers. In other words, they emptied the pantry.
On the other hand, it was Northern Colorado — not just a smaller team, but a bad smaller team. Same team that went winless last season, and pretty much every season for the last few years.
So there it sat. A team picked to finish second to only USC in the Pac-12 South against a team that will be lucky to finish at all. With the lead at 34-0 and 11 minutes still remaining, Kruger, a defensive end, made his move and rolled 24 yards for the score.
"It's every defensive end's dream to get a pick," Kruger said. "I jumped up, snagged it and started running. I couldn't believe it."
For Utah, Thursday's game wasn't designed to answer a ton of questions. You can't do that against teams that only have a handful of top-level players. The idea is to try things out. Throw some spaghetti against the wall and see what sticks.
After a 0-0 first quarter, pretty much everything did. The Utes showed Jordan Wynn is still workable at quarterback. He didn't complete any deep distance passes — his longest was 23 yards — but he did hit on 19 of 27 for 200 yards. There was one interception, which he said he chastised himself over. Brian Johnson, the 25-year-old offensive coordinator threw in a blend of plays and approaches, including a reverse that didn't go far. But Wynn wasn't stretched, which, considering his injury history, made sense. The Utes did fine running the ball, including two scores by backup quarterback Travis Wilson.
The questions at offensive tackle were calmed a bit as Wynn was never sacked.
The only real worry that showed up was on kicking, as Coleman Petersen missed a PAT and a 27-yard field goal.
For UNC, it was the kind of night it feared. The Bears never once crept beyond their own 49. There's something slightly cruel about such games, though everyone does it. Small teams need the money and big teams need a dry run.
Truth is, these types of games aren't typical for Utah. But it will likely become such. Last year — Utah's first in the Pac-12 — it opened with Montana State. Other years it was either instate opponent Utah State or teams like Pitt, Michigan, Oregon State, UCLA, Arizona, Texas A&M, Washington State, Arizona State, Oregon or Nebraska.
Most of those years, Utah was the small guy playing up.
Before last season, the last time Utah dipped into the lower division ranks for an opener was a 1988 game against Idaho State.
The problem with playing a half-pint opponent is you only get half the information you need.
One thing seemed abundantly clear, even though it was UNC on the other side of the ball: John White, the Wolfman, is going to have a howling good season. The man with the wolf tattoo on his chest, well, tattooed the Bears for 119 yards.
3
comments on this story
Blowouts. They're the darnedest thing. Utah has been on the wrong end of them, too, the most glaring being a 47-7 loss at home to TCU in 2010. Thursday's win was the first shutout since 2007 when Utah tried an onside kick with a 43-0 lead, prompting Wyoming's coach to shoot an obscene gesture Kyle Whittingham's way.
Fortunately, things didn't come to that on Thursday. Utah was dominant but well-behaved. UNC was spirited but outmanned.
"Our kids aren't down," said UNC coach Earnest Collins Jr. "They're just (ticked) because they didn't win the game, and we didn't score any points."
Exactly what the Utes had in mind.
Email: rock@desnews.com
Twitter: therockmonster
Facebook: rockmonsterunplugged