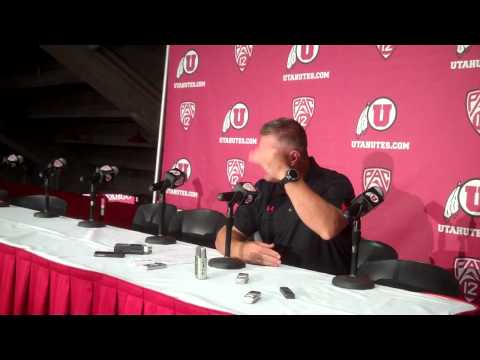 View 31 Items
Amy Donaldson





SALT LAKE CITY — Everyone knew that the Utah football team would beat Northern Colorado in Thursday night's opener with a good chance of pitching a shutout, which the Utes did in a 41-0 victory. The big question was how the Ute offense would look under new offensive coordinator Brian Johnson and how quarterback Jordan Wynn would play, coming off his shoulder injury of a year ago.
While the Ute offense didn't exactly light it up, it was "efficient" as coach Kyle Whittingham put it, and overall he was pleased with how his offense performed.
The offense produced 414 yards and Wynn completed 19 of 27 passes for 200 yards with an interception early in the game.
"I was pleased with the offense, other than the slow start," Whittingham said. "Once the offense got in rhythm I thought they played clean football and the execution was good and very few penalties. Jordan threw the ball efficiently and John White did his thing."
The Utes' favorite play was White up the middle as it was a year ago when he ran for more than 1,500 yards on the year (he had 119 Thursday). But the Utes also showed off a diversified passing attack that resulted in nine different receivers catching passes, led by tight end Jake Murphy's six catches for 78 yards and two touchdowns.
Johnson wasn't exactly doing cartwheels about his first game as an offensive coordinator, but was happy on the whole.
"We left a lot of stuff out there and have a lot of stuff to clean up," Johnson said. "But I'm glad we got the win and we played well in the red zone."
Whittingham praised Johnson's performance in his debut as the youngest offensive coordinator in the country.
"You'd never know it was his first game as a coordinator," Whittingham said. "It went very smooth. I was conversing with Brian the whole game. He called a good game, mixed it up … I thought it was a good start for him."
Wynn threw an interception on Utah's first drive of the game when he floated a pass towards DeVonte Christopher that was picked off by UNC's Courtney Hall. But he settled down after that and except for a few misses, was on target before being taken out after three quarters.
"I didn't like the way I started out, but I bounced back and completed a lot of passes," Wynn said. "I'd like to score more points, but we moved the ball and handled the situations correctly."
5
comments on this story
The Utes used freshman Travis Wilson in two early red-zone situations and both times he scored, the first time from three yards out and the second from six yards out.
Johnson brightened up when asked about his freshman, saying, "It was good to get him in there."
Wilson also played most of the fourth quarter and completed his two passes for 11 and 10 yards and also made one of the most popular plays of the night when he hurdled a UNC defender on a called running play.
"Travis Wilson gave us a few things … and was poised," Whittingham said. But he wasn't thrilled about his 6-foot-6 freshman trying to jump over defenders.
"Hurdling people? Probably not."
Email: sor@desnews.com