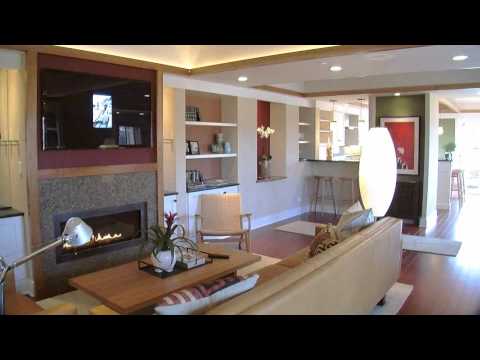 View 14 Items
YouTube

LIBERTYVILLE, Ill. — School Street was going to be the pride of Libertyville, Ill. For about three decades, the village government bought up and tore down homes surrounding an old elementary school downtown with the long-term goal of revitalizing the area.
The location was great for redevelopment: it sat just off the town's main drag, which was filled with nice shops, and a library and park — featuring a columned mansion and a gazebo — were within walking distance. A commuter rail station stood just down the street, giving commuters a nice 67-minute trip to Chicago.
It must have seemed like the perfect place for a new luxury townhome development. But 2007 just wasn't the perfect time.
The recession and the housing bubble hit the fledgling development like a ton of foreclosed bricks. The realities of the economic downturn reverberated not just in Libertyville but also around the country. In July 2007, there were 1,208,000 new housing units completed in the United States. Two years later, the number of new housing units completed had dropped to 797,000. Developments were abandoned — dubbed "redfields" because of builders' finances going into the red.
Developers couldn't continue with their plans. The burst of the housing bubble hadn't just changed the underlying economics; it also began to change the needs of people who were looking for new homes.
Five years later, some of those changes have begun to take effect. The lingering recession has changed the way homes are designed — in many cases, today's homes are smaller, more efficient and less expensive. Other changes have been brought on by fear of the future and the possibilities of other family members moving in. Some experts hope the pressures caused by the failed housing market will have a positive and permanent effect on how people will live in the future.
But until recently, there was little to be optimistic about School Street. The sound of hammers and circular saws fell silent as the project went into foreclosure in 2009. Only four townhouses had been sold, with a fifth built on speculation, out of 31 that had been planned. If someone had predicted the future of the project — now a redfield — it wouldn't have looked good.
New imagination and downsizing
After the bankruptcy of the Libertyville development, if you stood at the west end of School Street and looked east you would see five lonely brownstones staring back at you from the other end of the block. The elementary school, built in 1939, sits like an abandoned orphanage on the north side of the street near the brownstones. Everything else is weeds and dirt — awash in broken dreams, a testament to a housing market gone bad.
But developer John McLinden saw something else: the chance to do something new and innovative.
McLinden is the president of StreetScape Development, a "design/ development/construction" company, and has worked for almost three decades on building urban residences in the Chicago area. He is a big fan of popular architect Sarah Susanka's "Not So Big House" books that advocate downsizing homes and using better design to match the way many people now live thanks to the recession. So when McLinden saw the redfield in downtown Libertyville, he saw an opportunity.
The original plan for the project was to build 31 million-dollar townhouses and convert the old school on the block into a dozen loft-style condominiums. Because that plan didn't work, McLinden decided to try something different. He acquired the development and kept the 26 remaining planned home sites at their original 29-foot widths, but decided to make single-family homes with large front porches instead of townhomes. Building homes so close together on such narrow lots was unheard of in the suburbs. And so was building small.
It was exactly the sort of philosophy Susanka pushed in 1998 in her first book, "The Not So Big House." She wanted her ideas to create a trend toward smaller and better-designed homes.
"The housing market is slower to respond to trends," Susanka says. "We had to have a huge downturn just to look at the possibility of smaller high quality homes."
She also noticed a shift following the terrorist attacks on Sept. 11, 2001. "People are re-thinking what is important and there has been a big move to focus more on the community people are living in and having where they work be closer to where they live," Susanka says. "It is a kind of regrouping and focusing I think on what is important."
This shifting of attitudes about homes is having a similar effect, albeit in different ways, across the country.
Economic fears and families
Clark Ivory, owner of Ivory Homes, Utah's largest homebuilder, has seen several changes because of the economy. Ivory says fewer condos and townhouses are being built because the recession pushed property values down. Instead, people are opting for single-family homes. Because lot prices are so low, the difference between a single family home and a townhouse is not that much.
In the same way that the Libertyville project had to shift its focus from townhouses to succeed financially, Ivory had a development called Holiday Glen that changed with the times. "They would have been a bunch of twin homes," Ivory says.
Instead, Holiday Glen features smaller single-family homes.
Ivory says that these days, rather than looking for big homes, people are looking for really cool, smaller homes with a lot of design elements.
But in the range of the housing market where Ivory Homes concentrates, the impact on square footage by the economy hasn't materialized.
"The truth is," Ivory says, "the size of homes is not going down substantially."
In 2007, the average size of a home sold by Ivory Homes was 2,263 square feet. So far, in 2012, the average Ivory home has been 2,234 square feet. Despite the recession, people are getting the same size homes. In fact, it may be fears about the economy that is causing people to not downsize.
Ivory says people want to be ready if a parent or an adult child might lose a job or not be able to live on their own.
The size of second or "move-up" homes is still about the same size as in the past, but the purpose is to have enough square footage just in case it is needed and not to have a big home as an investment for its resell value. "When a family comes out to look at a home today, they want to be careful about getting more home for the money," Ivory says. "They need space for family needs. They need space for kids and a place for their parents or kids that come home."
Many homes are putting in kitchenettes — or at least want to make it easy to put in a kitchenette if the need arises, Ivory says. "Fewer basements are being finished these days," Ivory says. "People are looking for the lowest price."
Susanka says multigenerational concerns come and go with the economy. "When the economy is down, more people are aware they may need a house to accommodate an expansion of residents in their home," she says.
Concerns about the economy are also leaving footprints at the upper end of the housing market.
Supersizing in reverse
Ivory has noticed a downsizing in what some call "McMansion" sized homes. "People would rather have a quality home," he says. So instead of being 10,000 square feet, larger homes hover more around 6,000 square feet. "The larger homes are going to be less in vogue," he says, "even with those who can afford it."
"It is interesting that at the top end there has been a real softening in the McMansions, versus the mainstream home, which hasn't changed that much in size," Ivory says.
Ezra Lee is the owner of Ezra Lee Design + Build and creates higher-end custom homes. Lee has noticed changes in areas like Alpine, Utah, that have a lot of really big homes. "We are starting to see smaller homes with higher quality," he says.
People are asking themselves what they really need, Lee says. "There are enough homes out there that are awesome," he says, "but utility bills that are $600 to $800 a month are not as awesome."
Lee says people are more interested in the performance of a home than in the past. They want energy efficiency, they want more technology. "They want the creature features," he says.
16
comments on this story
Back in Libertyville, McLinden took advantage of economic trends and "new urbanist" hopes for smaller, walkable communities.
McLinden says some builders mistakenly believe that in this economy they need to create cheaper homes at the lowest price. "People will recognize and pay for quality," he says.
"I used to feel like a voice in the wilderness," Susanka says. "But there are a lot more people now singing the same song. I think through this recession, as hard as it has been, there will be some really great benefits in how we design and build our future."
Email: mdegroote@desnews.com, Twitter: @degroote, Facebook: www.facebook.com/madegroote