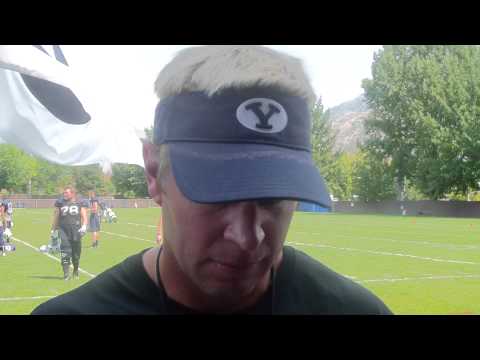 View 2 Items
Brandon Gurney, Deseret News

PROVO — The days are long, and the tempers are short.
Yes, BYU players and coaches are feeling the effects of fall camp.
"It's getting difficult to practice against each other," coach Bronco Mendenhall said Tuesday. "They're starting to not like each other very much — coaches and players — which is about typical for this time of year. Trying to make it through one more scrimmage (on Thursday) before we break up into scout teams."
Two players were booted from practice Tuesday for not following practice protocol, which includes not tackling or hitting.
"Just not playing within the practice rules for today," Mendenhall said. "There are grudges that build up against certain guys … Right now, it's an accumulation of things is kind of leading to blow-ups here and there … This is about the time period (of fall camp) where that tipping point is, I guess."
Asked about the "chippiness" at practice, quarterback Riley Nelson said, "Coach Mendenhall handles that kind of stuff … If you get caught up in that, then your performance is going to go down the toilet."
VAN NOY FULL-GO: Linebacker Kyle Van Noy was cleared by doctors Tuesday morning to fully participate in practices. Prior to Tuesday, doctors and coaches limited Van Noy's participation due to offseason shoulder surgery.
"I'm ready for the season," he said, noting that his reps will probably still be somewhat limited. "Coaches will be watching carefully," Van Noy added.
OTHER INJURY NOTES: Wide receiver Mitch Mathews, who is expected to be BYU's fourth receiver after Cody Hoffman, Ross Apo and JD Falslev, underwent a CT scan on his ailing shoulder. He was sidelined for Tuesday's practice.
Freshman running back Jamaal Williams suffered a rolled ankle and he was evaluated after practice.
PERSONNEL MOVES: BYU announced Tuesday that offensive lineman Walter Kahaiali'i will undergo season-ending knee surgery, though he plans to remain with the team as a student assistant. Meanwhile, offensive lineman Fono Vakalahi has decided to transfer.
Replacing Kahaiali'i and Vakalahi on the 105-man fall camp roster are defensive back Jacob Hannemann, a Lone Peak High product who was set to join the team once classes started, and wide receiver Taggart Krueger.
QB TALK: Nelson isn't satisfied with his performance in fall camp.
"I've got a long way to go," he said Tuesday. "Honestly, I'll just say this — I'm excited for the next two weeks to be able to get better leading up to our games. I in no way feel like I've arrived or that I've mastered the position. I come out here hungry every day to get better."
15
comments on this story
Asked about the quarterbacks behind Nelson, Mendenhall said, "I think they've had good camps. I would say James (Lark) is next and probably Taysom (Hill) after that as of today. I like our quarterbacks."
KICK RETURN TEAM: Hoffman and Falslev will be BYU's kickoff returners this season, Mendenhall said. Falslev will handle punt return duties.
Several others will back up Hoffman and Falslev on kickoffs — Alex Kuresa, Joe Sampson, and Dylan Collie. Joe Sampson could also be in the mix, Mendenhall said. Kuresa, Cody Raymond and Collie will back up Falslev on punt returns.
email: jeffc@desnews.com