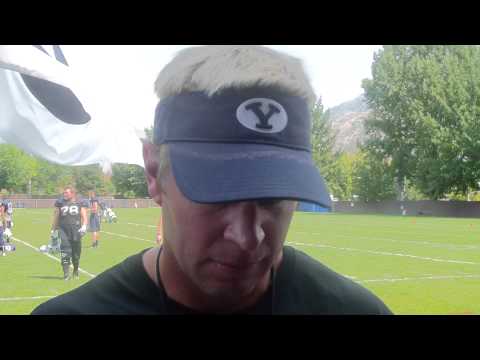 View 2 Items
Brandon Gurney, Deseret News

PROVO — Brandon Doman, John Beck and Max Hall all had their senior moments at BYU.
They are the last three seniors to start at quarterback for the Cougars, and they produced a combined record of 33-6 (a winning percentage of .846) in their final seasons, respectively. Doman was 12-2 in 2001; Beck was 10-2 in 2006; and Hall — who is currently a student assistant coach at BYU — was 11-2 in 2009.
If history is any indicator, that bodes well for this year's senior starter, Riley Nelson.
Doman, who is now BYU's offensive coordinator and quarterbacks coach, said having a senior quarterback "is going to make all of the difference in the world, I think. When we've had a senior quarterback, we've been really good. In my short tenure as a coach, we've won 11 games with a senior quarterback both times. I'm anxious to see how Riley leads this football team. I put a lot on him. We put a lot on our seniors. Up to this point — there's a lot of work to do and improvement to make — but I think this football team is deciding to be really good. It stems from the leadership."
Nelson knows enough about BYU's rich tradition at quarterback to know all about how successful senior QBs have been in Provo.
"As I look back at those years of those senior quarterbacks, they had great teams," Nelson said. "That's what I'm most encouraged about this year. I feel like we have a nasty defense. It's going to be so fun to play and win as a team."
Being the BYU quarterback comes with plenty of pressure and responsibility, which is something Nelson understands well.
"At BYU, quarterback is a very visible position. To be honest with you, the quarterback does play a vital role in the success of the team, so I don't shy away from that," he said. "Nor do I put undue pressure on that. I look at the position of quarterback as the distributor. The better and more effectively you can distribute the ball, the better your team is going to be. It's (wide receiver) Cody (Hoffman) who makes the catch and gains the yards. I can throw a five-yard hitch and he breaks a tackle and runs 60. That's 65 yards passing for me and I did hardly any work. So, the stats in football are set up to reflect the quarterback, but really, if you can just be a good distributor and a level of consistency and kind of a rock of experience and levelheadedness through the ups and downs of the season, I feel like those kinds of things are conducive to a successful year."
While Nelson isn't a prototypical BYU quarterback, Doman is confident in Nelson's ability to direct the offense.
"He's got a great chance to be a good player — a lot of things to work on still in the BYU-style passing game," Doman said. "But we've suited a lot of things to his strengths. We'll do some things that I think will be hard for defenses to defend because of who he is inside our BYU offense. I'm confident that he's preparing himself to be great."
Doman would like to see Nelson cut down on turnovers and complete at least 65 percent of his passes this season.
"If he's above 65 (percent) with his abilities and the things he does, gosh, we'll be hard to stop," Doman said. "Because of his ability to run and escape, he's not a traditional drop-back guy. So we'll see some errant throws, some balls hit the ground and we'll all go, 'What in the world is that?' It's just Riley. That will sort itself out. As many reps as we can get him and (chances) to manage the chaos, along with his ability to do what he does really enhances this offense to a level we haven't seen in a while."
Part of being a senior quarterback is being a strong leader, and Nelson fits that bill, Doman said.
"Our team hasn't acted like this or looked like this or has been this united — and just the work load alone, or the grit portion of playing this game — we haven't been like this since I've been here," Doman said. "A lot of it is attributed to him."
"I know my strengths and I know my weaknesses," Nelson said. "One of my strengths is being able to encourage guys and get them excited about football. What hits home for me is, this is my last opportunity to play college football. These incoming freshmen, when I started my first game in 2006, I believe they were in eighth grade. I've been in this game a long, long time. The sand in the hourglass is getting really, really small. I want to do all I can to take full advantage of it. Part of that is assuming that leadership role and embracing it. It's our collective season, but selfishly, it's my last season. I'll be darned if I let guys slack or take it off. That's kind of where my head's at."
email: jeffc@desnews.com