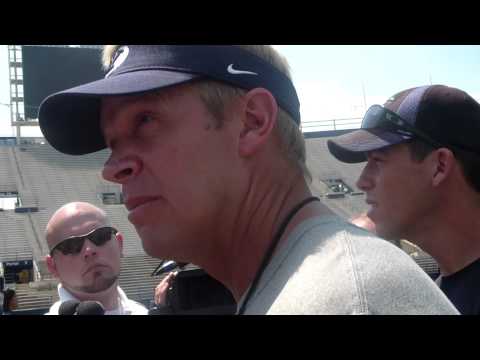 View 36 Items
Brandon Gurney, Deseret News

PROVO — Perhaps nobody was happier with Thursday's scrimmage at LaVell Edwards Stadium than BYU running backs coach Joe DuPaix.
His stable of backs showed off their depth, talent and versatility — and that could be a harbinger of what to expect from the Cougars' run game this season. That's good news for BYU, which opens the year in less than three weeks against Washington State.
True freshman Jamaal Williams turned in a memorable debut, rushing six times for 34 yards and a touchdown, while senior David Foote had six carries for 34 yards, redshirt freshman Adam Hine rushed five times for 29 yards, and sophomore Iona Pritchard rushed three times for 16 yards.
Most of the first-string players saw limited action or were held out for precautionary reasons. Starting tailback Michael Alisa, for instance, had just one carry for six yards.
"I was very pleased with what I saw," DuPaix said. "We have some guys that are competing at a very high level and doing the best they can. You've got guys that are falling forward, which is a tremendous sight to see. … Those guys are churning for every single yard. Those guys have a long, long ways to go. Thank goodness we have time before our opener to get better. That's what we're going to focus on now. We're going to take this, learn from it, and get ready to play football."
Thursday marked the first time during fall camp that the Cougars donned full pads, and the first time they were allowed to make contact.
Williams drew rousing cheers from those who attended the scrimmage, particularly on a 15-yard gain where he bounced outside and ran down the sideline.
"I feel like Jamaal kind of became a fan favorite today," said quarterback Riley Nelson, who completed 6-of-10 passes for 76 yards, including a 14-yard touchdown pass to JD Falslev on his first drive. "He's very explosive and has got lots of speed. If he can keep playing like he was today, I think he may be able to see the field this year, which is amazing, because the dude is young even for a freshman. We're excited for him."
"He's fun to watch, and he catches the ball well but he can also break a tackle and run around you," coach Bronco Mendenhall said of Williams.
DuPaix said he would like to have Williams play this season rather than redshirt.
"I definitely want to see him on the field. He has the ability to go out and play. If that's the case, we're definitely going to use him. We're not looking to redshirt people. We're looking to play the best players we can play. If Jamaal earns reps to play, then he's going to play."
Twice on third down, Williams caught passes and fought for the first down through extra effort.
"That's who he is. He's a really good player," DuPaix said. "That was his first chance he's had a chance to go physically play football and make catches. To play running back at BYU, it's not just hand the ball off and run. You've got to be able to pass-block, you need to be able to block for the other back that's in the backfield with you, you need to go out for passes. He's got to learn all those things throughout the process. I saw a lot of great things from him today and I look forward to seeing more tomorrow."
Last season, BYU's rushing attack took a while to get going, severely hampering the offense's progress. Mendenhall hopes things will be different this year.
"The number of running backs alone, and the nature of who they are," he said. "When you add Iona Pritchard and David Foote, the type of backs they are, the big, physical, drag-you-down backs. With Michael Alisa, there's some of that but also some bursts. Then you look at some complements with Hine and Jamaal. There's another element there. Put two big wideouts on the outside, a good offensive line and a mobile quarterback, that could be a really good unit, I think."
DuPaix cautioned that there's plenty of work to do before the season-opener.
"Every one of those guys need reps. They all need experience," he said. "We have a lot of ability and a lot of talent, but the overall game reps, they don't have. We've got to learn fast and grow fast. We can't be doing it throughout the first couple of games. It needs to happen now so we can go out and execute our assignments come August 30."
No doubt, DuPaix liked the mentality and attitude the running backs brought to the scrimmage.
"We have some physical players, and they like contact. That's another reason why I love them," he said. "That's a BYU football player. That's a BYU running back. You've got to be physical, you've got to like the contact. You've got to play with fanatical effort each and every rep. I felt like our guys came out and did that today. Now, assignment-wise, we weren't 100 percent. But they came out with the right attitude, and that's a big thing I was looking for today."
COUGARS CAMP REPORT
Day 7: The Cougars completed their first week of fall camp with a 70-play scrimmage Thursday at LaVell Edwards Stadium. It consisted mostly of second-stringers and third-stringers. It marked the first time BYU has donned full pads.
6
comments on this story
Standouts: Freshman running back Jamaal Williams had six carries for 34 yards and a touchdown. David Foote rushed six times for 34 yards and Adam Hine rushed five times for 29 yards. Quarterback Riley Nelson completed 6-of-10 passes for 76 yards, including a 14-yard touchdown pass to JD Falslev.
Injuries: Offensive lineman Brock Stringham re-injured his ankle. Placekicker Justin Sorensen will receive a nerve-blocking injection in his back. He is day-to-day.
Overheard: "It was really good to get more plays than I anticipated. So our depth held up well enough on both sides. We got about 70 plays, which was great." — BYU coach Bronco Mendenhall
email: jeffc@desnews.com