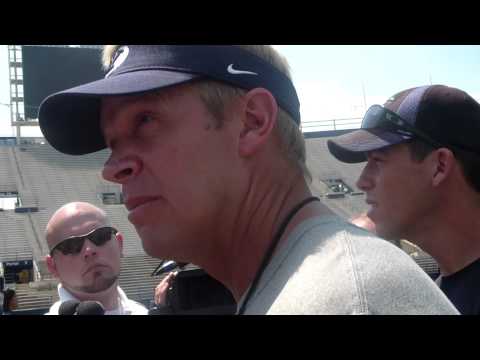 View 31 Items
Brandon Gurney, Deseret News

PROVO — By holding out most of the starters, the BYU coaching staff showcased its younger, less-experienced players during Thursday's scrimmage at LaVell Edwards Stadium.
And because the Cougars didn't suffer any major injuries, coach Bronco Mendenhall extended the scrimmage longer than he expected, which allowed more young players to see action.
"It was really good to get more plays than I anticipated. So our depth held up well enough on both sides," he said. "We got about 70 plays, which was great. I thought the offense did a nice job with run and play-action. And we saw a ton of young defensive players play and a chance to give every young quarterback a chance to play. … It was fairly vanilla on both sides. But for what we were hoping to accomplish, I thought it was right on."
Among the freshmen that shined included running backs Jamaal Williams and Adam Hine; wide receivers Terenn Houk, Dylan Collie and Cody Raymond; quarterback Taysom Hill; linebacker Manoa Pikula; defensive back Micah Hannemann; and defensive linemen Tui Crichton and Bronson Kaufusi.
Two of the three touchdowns the offense scored were by freshmen — Williams and Houk. Houk finished with two receptions for a scrimmage-high 66 yards, including a 37-yard TD pass from Hill, who was 4-of-8 for 86 yards.
Raymond caught 3 passes for 31 yards. Collie hauled in 2 passes for 22 yards, including a diving grab near the sideline on a pass from senior backup James Lark. That play set up Williams' 4-yard TD run.
THE QBS: Starting quarterback Riley Nelson was given three series. He was sharp on the first, completing 5-of-6 passes for 71 yards on a drive that culminated with a 14-yard touchdown to JD Falslev. Nelson finished 6-of-10 for 76 yards. He was "whistle" sacked a few of times. In all, the defense recorded six sacks against Cougar QBs.
"The only thing I was disappointed in was how many times I got sacked," Nelson said. "You could say it's protection, but as a quarterback, you have to get the ball out of your hands. We'll have to watch film on that and see what happens."
7
comments on this story
Senior backup James Lark completed 8-of-12 passes for 62 yards. Junior Jason Munns was 3-of-6 for 28 yards and sophomore Ammon Olsen was 1-of-1 for 11 yards.
SORENSEN UPDATE: Placekicker Justin Sorensen did not play in the scrimmage due to back pain. He was scheduled to receive a nerve-blocking injection in his back Thursday, and he is listed as day-to-day.
Mendenhall said he still is planning on Sorensen handling kickoff duties in the season-opener.
BYU suffered only one injury during the scrimmage, when offensive lineman Brock Stringham reinjured his ankle.
Email: jeffc@desnews.com