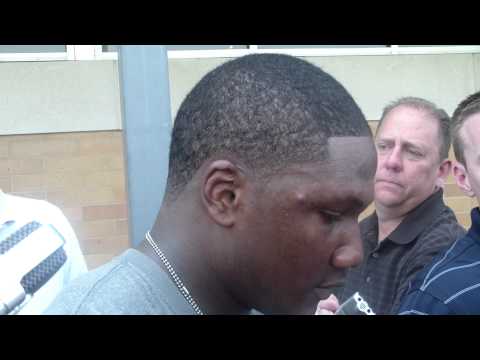 View 3 Items
Brandon Gurney, Deseret News


PROVO — BYU offensive coordinator Brandon Doman's smile pretty much said it all.
Wide receiver Cody Hoffman and defensive back Joe Sampson returned to practice Wednesday after being held out four days for disciplinary reasons.
"It was nice to get Cody back today," Doman said. "Our offense was quite a bit different with him out there."
After practice, Hoffman, who caught 61 passes for 943 yards and 10 touchdowns last season, declined to talk to reporters.
"It feels good to be back out here," Sampson said. "I'm just ready to get ready for this season."
Coach Bronco Mendenhall cleared Hoffman and Sampson to rejoin the team for practices Tuesday night.
"It's great to have them back," Mendenhall said. "I have personal contracts with a lot of my players and their job is to keep them and my job is to keep my word. I'm encouraged by what they've done to this point."
SORENSEN UPDATE: Placekicker Justin Sorensen remains sidelined with back pain. He underwent back surgery during the offseason and had an MRI Tuesday.
"I visited with (Sorensen) this morning. Doctor feedback is the next step," Mendenhall said. "I'm still anticipating him to play and I hope for the opener."
Any thoughts of redshirting Sorensen?
"As far as I'm concerned, I don't want him to (redshirt)," Mendenhall said. "I haven't even considered it. I'm planning on him kicking against Washington State."
THURSDAY'S HEROES REUNION: The BYU football program hosted participants of "Thursday's Heroes" for a reunion dinner Tuesday night.
"Thursday's Heroes" is a program that allows the team to honor and befriend fans who are going through difficult struggles.
Players and coaches ate a meal at the outdoor practice field and visited with the Thursday's Heroes and their families.
"It was awesome. I'm not sure how many were here," Mendenhall said. "Most of them were saying it was the thing they planned their year around. I forget how much it means to them. And it's great to see the progress of some and sad to see that others have passed on. They love the support and it's so much fun to be able to help. It's one of the best things in the seven years that I've been here."
NUMBERS GAME: Several players switched jersey numbers this week. Some players wear duplicate numbers — one is an offensive and the other is a defensive player. For instance, linebacker Alani Fua and running back Iona Pritchard both wear No. 5, but that is permissible since they won't be on the field at the same time.
Those players that share numbers could be on the field together while playing special teams, which necessitated those players changing numbers.
Quarterbacks were the ones affected most. Among those changing numbers were quarterback Taysom Hill (switching from No. 12 to No. 4); quarterback/wide receiver Alex Kuresa (from No. 7 to No. 6); and quarterback James Lark (No. 3 to No. 7).
Lark is listed as the holder on special teams while Hill kicked a couple of PATs in practice this week.
email: jeffc@desnews.com