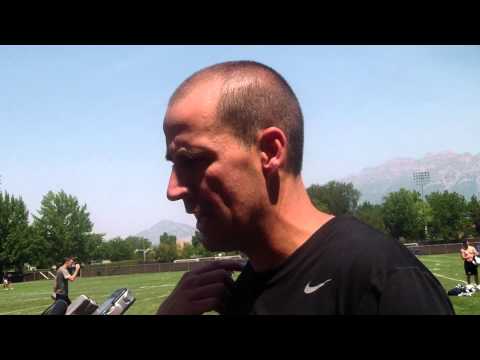 View 4 Items
Brandon Gurney, Deseret News


PROVO — When BYU holds its first scrimmage of fall camp Thursday at LaVell Edwards Stadium, it will mark the first time the Cougars don full pads and it will be the first time they'll be allowed to go "live," with blocking and tackling.
Coach Bronco Mendenhall said his team will practice at the stadium before starting the scrimmage, which is open to the public. The scrimmage will consist of 50-60 plays, he said.
"It should be a heavy day," the coach said.
To minimize the chance of injury, many first-string players will be held out of the scrimmage. Coaches will focus on evaluating younger players and assessing the team's depth.
"It will be great to see where some of our younger guys are and get some great depth established and then get some reps for key ones," Mendenhall said.
Offensive coordinator Brandon Doman said the scrimmage will play a big role in deciding which unproven players could contribute this season.
"It will determine a lot," he said. "We need to start narrowing our vision in and start giving repetitions to guys who will potentially be helping us on (game day)."
One of the players coaches are eager to watch is true freshman running back Jamaal Williams, who has been impressive in the first week of fall camp.
"We're lucky he's here, quite honestly," Doman said. "At the end of his high school season, he had a lot of very good colleges trying to get him away. He stuck with his commitment. We're seeing why those colleges were coming after him. He has a lot of ability. Man, he might help us this year as well."
Another key position to watch is receiver. The Cougars are looking to develop depth at that position behind Cody Hoffman, Ross Apo and J.D. Falslev. Doman is keeping an eye on Mitch Mathews, Skyler Ridley, Alex Kuresa and true freshman Dylan Collie.
At quarterback, BYU boasts two seniors — starter Riley Nelson and backup James Lark — at the top of the depth chart, which means many of Thursday's snaps will be reserved for other backups, including freshman Taysom Hill, sophomore Ammon Olsen and junior Jason Munns.
The battle to become the Cougars' third-string QB is open right now, Doman said.
How important is the scrimmage when it comes to determining a third-string quarterback?
"It's important, but it's not the only evaluation they will get," Mendenhall said. "It will be a great chance for them to be in our stadium and getting some live reps and see who can move the team and where their composure and decision-making is."
Because BYU has two seniors at quarterback, the third-string QB figures to have the inside track to be next year's starter.
"It's going to make a big deal," Doman said. "That guy's going to be in meetings, he's going to be on the airplane to the games, he may have a headset on during the games. He's going to experience a lot of valuable things in preparation for next year."
No other scrimmages are scheduled at this point, Mendenhall said.
Thursday's scrimmage will be the one and only chance for fans to watch the Cougars in action before the season-opener — in just three weeks — against Washington State on Aug. 30 at Edwards Stadium.
Mendenhall has decided to limit the number of times fans can watch his team practice during fall camp.
"To be quite honest, it's just a couple of more things to manage," he explained. "I'd love to give access and I'd love for our fans to see us play. Unfortunately, the past seven years have kind of taught me that the more people watch, the less control I have over the information, where it goes, and who sends it. That is problematic … I'm reluctant to have open practices, yes, and more reluctant each year, than when I started."
BYU fall camp update
Day 5: The Cougars donned pads again Wednesday, with a session in the morning that was open to the media and an afternoon session that was closed to the media. In the morning, players were careful to follow the instructions of coach Bronco Mendenhall and not make contact.
Standouts: Linebacker Spencer Hadley picked off a Riley Nelson pass that could have been a pick-six, in the 11-on-11 session. Running backs Michael Alisa and Adam Hine each ripped off long runs.
Injuries: Defensive lineman Ian Dulan sat out of practice (sore back). Kicker Justin Sorensen, who underwent an MRI Tuesday, is still being evaluated by doctors.
Overheard: "I must be living right because they just showed up. I didn't call them, maybe one of our staff members did, thought I needed help." — Coach Bronco Mendenhall on referees coming to help with Wednesday's practice.
BYU scrimmage
The Cougars will hold their first scrimmage of fall camp Thursday at 10:20 a.m. in LaVell Edwards Stadium. It is open to the public, and it's the only one open to the public. Fans will be allowed to sit on the west stands and parking will be limited to the west lot.
Email: jeffc@desnews.com