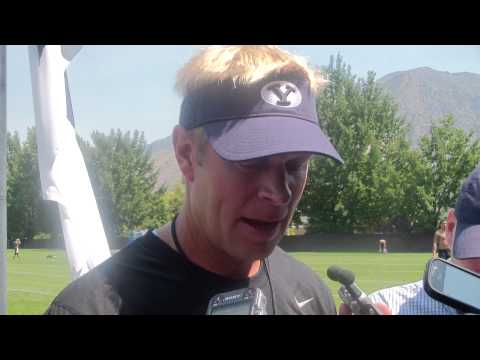 View 2 Items
GmanTBS

PROVO — Even though BYU donned shoulder pads for the first time of fall camp on Tuesday, coach Bronco Mendenhall gave his players explicit instructions — no hitting allowed.
Early in the Cougars' 11-on-11 session, however, safety Daniel Sorensen knocked down running back Michael Alisa, who promptly knocked Sorensen's helmet off. Following a minor scuffle, Mendenhall abruptly halted practice and ordered the players to perform a grueling set of drills — including pushups and jumping over three sets of stacked blocking pads, culminating with a complete immersion into the tubs filled with ice and water.
Then they repeated the exercise several times.
"The best thing about it was the cold tub," said wide receiver Ross Apo, shaking his head. "It was the only time we got to rest. I guess we deserved it, according to coach."
When asked if the creative obstacle course, which Mendenhall said was something he "completely made up," was a punishment, Mendenhall explained that he regarded it as "a teachable moment."
"You can view it in a couple of ways," he added. "You can view it as, 'They really want to play and they're very competitive and they really want to be good.' Or, 'They need to learn how to practice.' You can take it whatever slant you'd like on that one."
Quarterback Riley Nelson said he didn't mind the exercise. "It was great. It's all part of the experience, all part of fall camp. It was fun."
How hard is it to wear pads and avoid the temptation of making contact?
"It's not tough at all. We just have to do what the coaches ask," Nelson said. "The coaches have expectations and we are asked to meet them. When we don't meet them, then there's going to be repercussions. But it was all fun. We'll get back at it tomorrow."
Meanwhile, Nelson admitted he was disappointed that his time to take live snaps was cut short.
"It takes away reps. That's it. We didn't get to run plays in the 11-on-11 session. We did that because coach Mendenhall sees that as the best thing possible for our team. I trust him 100 percent … That was the best thing possible that we could do for the team. He decided to end practice that way, so we did."
BYU has implemented a new conditioning and fitness regimen this year, and that's been a focus during fall camp.
"I expect them to come in (to fall camp) better conditioned and I'd like to maintain it and build on it," Mendenhall said. "Just trying to do my part as the head coach to help and have a little fun."
Yes, that is Mendenhall's idea of fun.
"I think they had fun doing that," Mendenhall said. "I don't know how many smiles you saw. But we'll see how it goes tomorrow."
The first time that coaches will allow players to hit will be Thursday for the first scrimmage of fall camp at LaVell Edwards Stadium. The Cougars will be in full pads for the first time that day.
What does Nelson want to accomplish in this scrimmage?
"Execute in the pass game, be highly efficient," he said. "I'd like to keep my completion percentage about 70, and no turnovers. And, of course, lead drives. However we get into the end zone is fine with me."
BYU FALL CAMP UPDATE
8
comments on this story
Day 5: The Cougars donned pads for the first time in fall camp, but coach Bronco Mendenhall prohibited the players from making contact. After some hitting occurred, a scuffle ensued, abruptly ending the 11-on-11 session.
Standouts: Quarterback Riley Nelson completed a long pass to sophomore wide receiver Brett Thompson.
Injuries: Wide receiver Dallin Cutler (hamstring) and tight end Marcus Mathews (illness) both missed Tuesday's practice. Kicker Justin Sorensen had an MRI on his ailing back.
Overheard: "I think they had fun doing that. I don't know how many smiles you saw. But we'll see how it goes tomorrow." — Coach Bronco Mendenhall on the grueling, post-practice conditioning drills his players experienced.
Email: jeffc@desnews.com