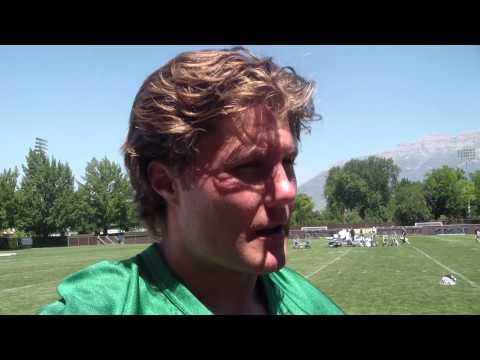 View 26 Items
Brandon Gurney, Deseret News

I'm just out there trying to do my best, whether it be single-back, two-back, blue formation or I-back. Whatever role is available, I want to be able to contribute.

—Iona Pritchard
PROVO — A lot of players say all they want to do is contribute to their team's success.
BYU running back Iona Pritchard really means it.
The 6-foot, 244-pound sophomore has plenty to offer, too, because he may be the Cougars' best all-around running back.
Pritchard can play both tailback and fullback, and through three days of fall camp, he has displayed his vast repertoire of skills, including catching passes and running the ball. When BYU begins contact drills in the coming days, he'll be able to show off his blocking ability.
"All I'm trying to do right now is show that I can contribute to the team in a variety of different ways, not only at fullback," he said Saturday. "I'm just out there trying to do my best, whether it be single-back, two-back, blue formation or I-back. Whatever role is available, I want to be able to contribute. I just try to contribute any way I can. If it's a pass play, and I'm blocking, I want to be the best blocker. If it's a pass play and I'm running the route, I want to make a good read and catch the ball. If it comes to running, I want to not go down. Those are my aspirations."
Junior Michael Alisa and Pritchard stand atop the depth chart at running back, said coach Bronco Mendenhall.
When asked what Pritchard brings to the Cougar offense, Mendenhall quickly rattled off a list of qualities.
"Physical, fast, good football player, good blocker, great ball skills out of the backfield," Mendenhall said. "He's a complete football player."
Pritchard deeply and genuinely appreciates any opportunity to contribute because of what happened almost one year ago.
"August 13," he said. "I won't forget that day."
The Cougars were holding a scrimmage at LaVell Edwards Stadium that morning. On the opening kickoff, Pritchard was running downfield as part of the coverage team and, as the result of getting tangled up in a pile, he dislocated and tore ligaments in an ankle, and suffered a fractured fibula.
Just like that — only months after returning home from a mission in the Marshall Islands — his season was over.
"I happened to be in the wrong place at the wrong time. It was kind of a freak accident," Pritchard said. "It was pretty gruesome when it happened. But I think everything happens for a reason. I have no hard feelings about it. Whatever the Lord has in store, I just try to roll with the punches."
At first, Pritchard didn't know how bad the injury was. "I felt something," he recalled. "After the play, when I looked at my leg, that's when I realized it was broken. Coach Mendenhall came up and said, 'It's broken!' I could see that my kneecap was straight but my leg was turned the other way. I was pretty sure I was done for the season."
The injury cast a pall over the scrimmage. And Pritchard's absence hampered the Cougar offense last season, as he had been projected by coaches to be a major contributor.
Over the past year, he has endured grueling rehabilitation and worked hard to get back on the field.
"It's been a long time coming, I'll tell you that," he said. "I've definitely had to learn patience throughout this entire deal. Since I broke my leg, all I could think about was now. My preparation for today started when I broke my leg."
Pritchard said his leg feels "really good" now. "I don't think about it that much. This week, somebody hit my leg, and it was the first time I thought about it. When I got back into my stance, my foot was shaking. Then I didn't think twice about it."
Pritchard, a Bingham High product, arrived at BYU in 2008 as a freshman linebacker. During that season, he played linebacker and saw time at running back.
"When you come in as a freshman, you want to contribute wherever you can," he said. "Fullback and linebacker, the mindset of those two positions are kind of the same. You just want to go out there and punk somebody. You just want to hit somebody. As a tailback, you want to be more controlled. Linebacker, I won't lie. It's fun. Sometimes I still think about being out there. It's different. It's a whole other atmosphere on the defense. The adjustment hasn't been too hard. I just bring the same mindset as if I was a linebacker to the running back side."
Mendenhall has compared Pritchard to former BYU fullback Manase Tonga (2005-07, 09).
"It is a compliment. I'm honored to be compared to that guy," Pritchard said. "But the difference is, he's done something already on the field. I ain't done nothing yet. I just come out and try to perform and do the best that I can to hopefully get that opportunity. I didn't know Manase too well, but from what I've heard and what I've seen from him, he's a pretty good athlete. Of course I'd like to try to be more like him. I just want to be the best that I can be and make a name for myself."
Thanks to his considerable talents, Pritchard is poised to contribute in multiple ways to the Cougar offense.
email: jeffc@desnews.com
BYU camp report
Day 3: BYU practiced in helmets and shorts Saturday morning. Conspicuously absent, once again, were wide receiver Cody Hoffman and defensive back Joe Sampson, who were held out of practice for disciplinary reasons.
7
comments on this story
Standouts: In team sessions, unofficially, quarterback Riley Nelson competed 4-of-6 passes for 37 yards while backup James Lark was 3-of-4 for 20 yards. Wide receiver Cody Raymond caught three passes for 37 yards.
Injuries: BYU TE Devin Mahina suffered a broken bone in his hand. He will undergo surgery Sunday, and is expected to be out three to five weeks. Wide receiver Dallin Cutler sustained a hamstring injury.
Overheard: "You guys can't sustain the pace (of fall camp), can you? Just telling you what I see. You're laughing because you know it's true." — BYU coach Bronco Mendenhall before addressing media members after practice.