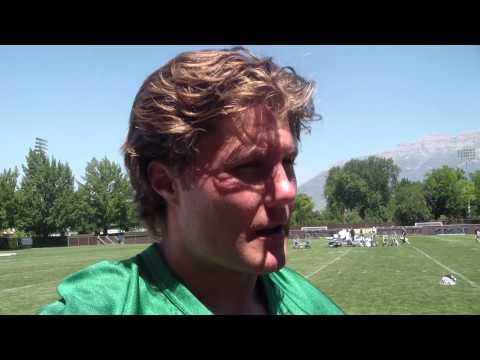 View 2 Items
Brandon Gurney, Deseret News

PROVO — For the second consecutive day, two BYU starters — wide receiver Cody Hoffman and defensive back Joe Sampson — did not practice for disciplinary reasons.
Coach Bronco Mendenhall said the pair will not practice "at least through Monday as well. Still a little work to do."
Mendenhall did not elaborate.
At Saturday's practice, the third of fall camp, the Cougars could have worn pads, but Mendenhall opted to put his players through the paces in helmets and shorts.
"Continuing to work on the pace without pads. I wanted to see one more day of it," he explained. "We're getting a lot done. I thought it would be a good way to start the rest of the weekend and keep increasing intensity, as camp is more of a marathon than a sprint."
On day five, players are allowed to wear full pads, and Mendenhall said that is the plan for Tuesday's practice.
So far, "I've really liked what I've seen for three days," Mendenhall said.
COLLIE TURNING HEADS: True freshman Dylan Collie has made quite a splash during the first few days of fall camp.
Collie is the latest in a family of wide receivers that has made a big impact at BYU. His dad, Scott, and older brothers, Zac and Austin, all played for the Cougars.
Mendenhall said Collie has already impressed the coaches this week.
"Just in special teams, catching the ball, and in his confidence," the coach explained. "He doesn't believe, or play, like he's a freshman. He already has a good understanding of the playbook. He runs good routes, he catches the ball and he knows what to do. That's the best way to earn trust."
Collie wears No. 9, just like Austin, who is BYU's all-time receiving yards leader and currently plays for the Indianapolis Colts.
DEFENSIVE STATE OF MIND: BYU senior defensive lineman Eathyn Manumaleuna said he expects a lot from this year's defense.
"As long as coach Mendenhall has been coaching the defense, it's been great. Each year, with him as the defensive coordinator, it's gotten a lot better. He's helped me elevate my game. He's helped me trust the players and coaches. Last year was great. I know this upcoming year will be better. I'm excited for the defense. We have higher expectations for us as a defense."
DATE CHANGE: The BYU-Notre Dame game scheduled for 2013 has been moved back one week, to Nov. 23. The Cougars announced last month they will visit Wisconsin on Nov. 9, 2013.
email: jeffc@desnews.com