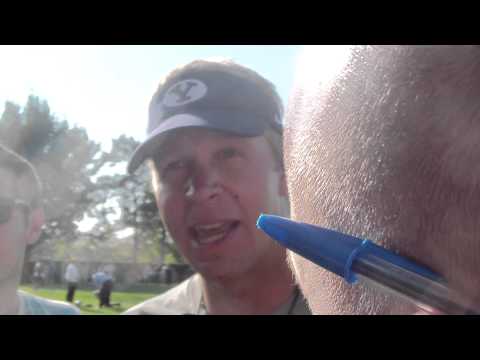 View 2 Items

PROVO — During spring drills, BYU's offensive line was depleted due to a multitude of injuries. Most of those players are back now for fall camp, and they're eager to make up for lost time.
"I think this year's offensive line is going to put something different on the field for the fans to see this year," said senior right tackle Braden Brown, who underwent shoulder surgery in January and was sidelined during the spring. "We have a lot of guys who just want to get after it, who have a chip on their shoulder. It's going to be fun."
Coach Bronco Mendenhall's assessment of the offensive line after two days of fall camp?
"I like it so far," he said. "It's fun to have enough players to practice with to have three deep and not have guys doing double reps. I hope it can stay like this."
One of the keys during fall camp will be creating a cohesive unit on the offensive line.
"We developed a pretty strong camaraderie among the O-line throughout the summer," Brown said. "We did a lot of stuff together through the player-run practices we had. We developed some sort of chemistry and these reps during fall camp will help us get that much better."
The silver lining of having so many O-linemen sidelined during the spring was that some backups received more experience.
"The good thing about that was, we got a lot of guys some good reps in spring," Brown said. "So we have a lot of depth on the offensive line. It's all a matter of staying healthy."
Brown has dropped 10 percent body fat and lost five pounds since his surgery.
"I converted a lot of that fat into muscle," he said. "I feel like I'm in really good shape and I can't wait for the season."
Quarterback Riley Nelson sees a lot of potential in this group of offensive linemen.
"I'm excited for those guys. Mentally, they did a really good job (the first day of practice)," he said. "I'm excited about them physically, too. They've all worked as hard as I've seen them work to really get in shape and make themselves the best they can be. Fall camp is all about working together as a unit. I've seen offensive lines that maybe aren't the most talented guys, but because they work so well together — especially in our run and pass blocking schemes, (it requires) a lot of coordination with the guy next to you. That's what I'd like to see in fall camp, coming together as a unit and gelling. That's going to be tough because we still have some position battles going on. But I was happy with Day One. Some guys were frustrated because they want to be in pads already. I told them there will be a time for that. … To see them champing at the bit like that to want to be physical and to want to hit somebody is a good sign. I think they're well on their way to playing really well as a unit."
Nelson is looking for the O-line to establish a reputation for being a little bit nasty.
"I love those guys. I love the way that they're battling. … The biggest thing, and it's tough, because on the offensive line, you've got to be a nasty, nasty guy," he said. "In the NFL, they're kind of big, dirty, grimy guys. That's not really our image at BYU. We're clean-cut, we're hold-the-door-open-for-you, pick-you-up-after-the-play and stuff like that. But when that ball is snapped until the whistle blows, we need to be nasty, cut-throat guys. I feel like we have a group of 7 or 8 who are almost all there. You're managing personalities. Not everybody is that way. But I feel like we have enough influence to where our offensive line will be great. Let's all cross our fingers, knock on wood and say our prayers that those dudes stay healthy. Because if they stay healthy, it will be a real special season for our offensive line."
BYU camp report
Day 2: BYU practiced again in helmets and shorts in a two-hour session Friday afternoon. The Cougars return to practice this morning.
Standouts: Quarterback Riley Nelson completing 7-of-10 passes for 63 yards and an interception. That pick was by safety Daniel Sorensen.
Injuries: Offensive lineman Brock Stringham was sidelined with a sprained ankle. Wide receiver Cody Hoffman and defensive back Joe Sampson were held out of practice for disciplinary reasons.
Overheard: "Less enthusiasm, but better execution. … We got more done today than yesterday at a higher level." — Coach Bronco Mendenhall
email: jeffc@desnews.com