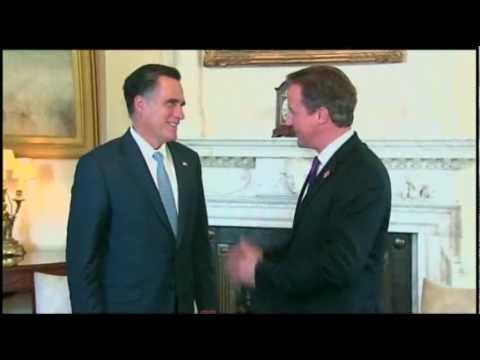 View 2 Items
AP via YouTube

I seem to recall another British leader in years past making a similar dismissive comment. Back then it was King George and those 'little colonies' over the ocean in America.

—Gov. Gary Herbert
Let this be a lesson to presidents and prime ministers around the world: You may disrespect Utah, but you do so at your own risk.
Gov. Gary Herbert and Salt Lake City Mayor Ralph Becker fought back Thursday after British Prime Minister David Cameron, feeling provoked by Mitt Romney, said Salt Lake is "in the middle of nowhere."
"I seem to recall," Herbert shot back, "another British leader in years past making a similar dismissive comment. Back then it was King George and those 'little colonies' over the ocean in America."
The controversy started Wednesday night when Romney spoke bluntly about the 2012 London Olympics, which begin tonight with the opening ceremony. "You know it's hard to know just how well it will turn out," Romney said in an interview with NBC News. "There are a few things that were disconcerting. The stories about the private security firm not having enough people, the supposed strike of the immigration and customs officials — that obviously is not something which is encouraging."
Cameron replied early Thursday by comparing the size and scope of London's Summer Games to the 2002 Olympic Winter Games hosted by Salt Lake City, which were led by Romney and launched what has become a viable bid for the U.S. presidency. "We are holding an Olympic Games in one of the busiest, most active, bustling cities anywhere in the world," the prime minister said. "Of course it's easier if you hold an Olympic Games in the middle of nowhere."
Romney quickly moved to mend fences with Cameron, but not before the mayors of London and fray, followed by Herbert.
Appearing before thousands of screaming people on an elevated stage at Hyde Park, London Mayor Boris Johnson whipped the crowd into a frenzy when he said, "I hear there's a guy called Mitt Romney who wants to know whether we are ready. He wants to know whether we are ready. Are we ready? Yes we are! … There are going to be more gold, silver and bronze medals than you'd need to bail out Greece and Spain together."
The Salt Lake City mayor's office lobbed some verbal barbs of its own. A spokesman for Mayor Ralph Becker told the online news site BuzzFeed, "We'd welcome the opportunity to share all that we enjoy here with the (prime minister), including a great number of assets that you'd be hard-pressed to find in London — world-class outdoor recreation, an economy that has prospered even through the recent economic recession, one of the best-educated populations in the world and a rare sense of community and commitment to progressive evolution. … (Cameron) can stop by any time. We'd love to have him and are happy to send a map so he doesn't run into any trouble locating the middle of nowhere."
Romney and Cameron then met Thursday as a part of Romney's scheduled foreign policy trip. Following the meeting at 10 Downing Street, the Republican tempered his previous comments. He told reporters he expects the games "to be highly successful." Romney also said he and Cameron talked about the "great progress" that has been made for the London Games, which have been criticized for security woes and organization.
Romney said some things always go wrong but that the Games prove successful once the athletes become the focus.
Herbert, too, went on within his own statement to downplay his Revolutionary War dig.
"In all seriousness, though," the governor said, "Utah's litany of accolades makes it clear we are in fact a center of business and economic growth — for the United States and the world. … With a nationally and globally acclaimed economy, Salt Lake City and the state of Utah can hardly be considered the 'middle of nowhere.'"
Media outlets on both sides of the Atlantic Ocean infused unique perspective into the give-and-take. Alex Spillius of the British publication The Telegraph responded to Romney's initial comments with an op-ed piece that included a healthy dose of self-pity. "I have listened to Mitt Romney's stump speech countless times. A standard refrain is to run down Europe — not a hard case to make at the moment — and that includes us. Not once have I heard him praise Britain or extol the special relationship he now belatedly trumpets."
Los Angeles Times columnist Jon Healey, on the other hand, defended Romney's right to speak his mind about the London Olympics: "Everything he said was true … and as the former head of the committee that staged the Winter Olympics in Salt Lake City, Romney is uniquely qualified to comment on whether London is up to the challenge that the host city of an Olympics faces. So why shouldn't he say what he thinks?"
The Associated Press contributed to this report.