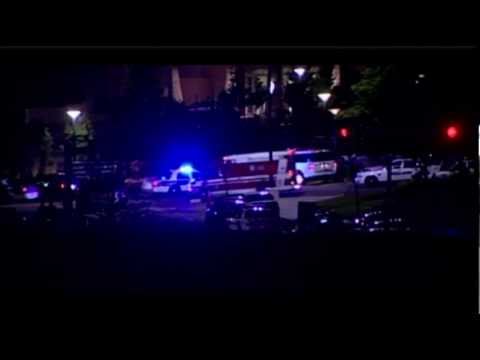 View 41 Items
YouTube/Associated Press





Details are beginning to emerge about James Holmes, the shooter suspected of opening fire and killing 12 people at an Aurora, Colorado area theater at a midnight screening of Dark Knight Rises, the newest installment in the Batman series.
Holmes, wearing a gas mask, barged into a crowded Denver-area theater during a midnight showing of the Batman movie on Friday, hurled a gas canister and then opened fire, killing 12 people and injuring at least 50 others in one of the deadliest mass shootings in recent U.S. history. ABC News reports Federal law enforcement sources said that Holmes bought a ticket to the movie, slipped out of the theater once it began and propped open the emergency exit before gathering his weapons and gear and coming back into the theater. Once inside, he opened fire.
Holmes had an assault rifle, a shotgun and two pistols, a federal law enforcement official said, speaking on the condition of anonymity to discuss the ongoing investigation.
FBI agents and police immediately went to work searching for the shooter. They found the 24-year old Holmes near a car behind the theater still dressed in riot gear, body armor and a gas mask - an outfit similar to one worn by Bane, the villain in the Batman movie. Holmes was reportedly still armed with a rifle and two handguns. Aurora police chief Dan Oates indicated this was likely a lone attack and that there was no evidence of any other attackers. Holmes told Aurora police that his apartment was booby trapped which was confirmed when FBI agents and local police used a hook and ladder fire truck to reach Holmes' apartment in Aurora, Colorado, Oates said. FBI and Police put a camera at the end of a 12-foot pole inside the apartment, and confirmed that the unit was booby trapped. Authorities evacuated five buildings as they continue to determine how to disarm flammable and explosive material found inside the apartment.
Authorities did not release a motive for the shooting. The FBI said there was no indication of ties to any terrorist groups by Holmes, who is an American citizen. But while the motive is still unclear, some details have begun to emerge, painting a striking picture of the suspected mass-shooter.
The FBI has released information about Holmes indicating he is a white male, stands 6 feet, 3 inches tall and is 24 years old. His birth date,according to the FBI, is Dec. 13, 1987.
According to police, Holmes lives in an apartment in Aurora, approximately five miles from the Century 16 movie theater where the attack occurred.
Holmes was a student at the University of Colorado School of Medicine in Denver until last month, spokeswoman Jacque Montgomery said. She reported he had withdrawn from school but did not indicate why. Other reports indicate he had not yet fully withdrawn from school. Yahoo News later reported he was a Ph.D student in neuroscience studies.
Huffington Post reports that the U.S. Army, in response to speculation that Holmes had served in the military, issued a statement that said they found "no evidence" he had served in the Army."
CBS News reports New York Police Commissioner Ray Kelly saying during a noon news conference,We have some information, most of it is public. It clearly looks like a deranged individual. He had his hair painted red, he said he was The Joker, obviously the enemy of Batman."
22
comments on this story
A San Diego, Calif., woman who identified herself as Holmes' mother told ABC News she had not yet been contacted by authorities. She said she was unaware of the shooting and expressed concern that her son may have been involved. "You have the right person," she said, instinctively. "I need to call the police ... I need to fly out to Colorado."
Speaking outside Holmes mothers house in San Diego, Lt. Andra Brown of the San Diego police department confirmed that the suspect attended high school in San Diego. San Diego area news outlets are reporting that Holmes graduated from Westview High School in Carmel Valley in 2006.
Police released a written statement from Holmes' family: "Our hearts go out to those who were involved in this tragedy and to the families and friends of those involved."